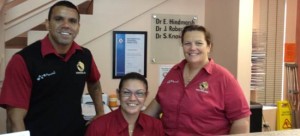 The Gandangara Aboriginal Medical Service is a family practice that operates a unique culturally sensitive medical service entirely owned by Aboriginal people.
It covers a huge area of NSW – from Liverpool to Moss Vale. The service recently ran a Health Day to promote itself to the wider community.
Since it opened in 2010, the Gandangara Aboriginal Medical Service has helped more than 1000 patients. The centre overcomes barriers that Aboriginal people face when dealing with conventional medical services.
Gandangara Health Services Manager, Jennifer Weatherstone says the service has three streams.
"There is a mainstream health centre open to anyone – it just so happens that 70 per cent of our clients are Aboriginal – so we have an Aboriginal focus and Aboriginal staff, with reception and the nurses, so we attract people from that community and outlying communities, which is fantastic. We have a great mix of Aboriginal and non-Aboriginal patients," Jennifer says.
"As far as we know, we are the first land-council-run, mainstream medical centre in Australia. We are really proud of that – there is no government money. The other stream is a health brokerage that is funded by OATSIH, called Marumali, which has been operating since 2010 and has over 4000 people on its books.
"We service mainstream GPs, assisting them with their Aboriginal clients from Parramatta to Moss Vale. We have about 300 GPs who we support in that massive area, as well as a number of health workers who assist. It is extremely rewarding.
"We also have a family and community services project called Early Intervention, which has Aboriginal and non-Aboriginal nurses screening children from ages 0 to 6 for disabilities. We have funding for this until June 2013, but we are quietly optimistic that this won't stop because there have been massive amounts of issues raised from that."
Jennifer says that the centre recently held a  Health Day to encourage Aboriginal people to live longer.
"This was the first of four events – the next three are in January, March and early June next year. We are hoping to collect some information from them through general health check-ups. For us it will help determine what the community's needs are. If we see that smoking is a real issue then we might have quit smoking as the basis for one of the days," she says.
"We have a good idea about what these issues are anyway because of the three health streams here at Gandangara. These three streams all work very closely together, all on the one site, and are supported by the Gandangara Local Aboriginal Land Council, which is across the road from us. They support us with a range of services for the community, including housing and transport.
"It is all working really well. The medical centre is the newest addition to the team and has been here now for 2.5 years but we are already outgrowing the premises.
"We cover all of Sydney's southwest, but the Koori population of Liverpool is enormous and growing by the day. We are noticing a lot of people moving into the area – maybe it's being driven by affordable housing availability from the city?"
The Health Day featured cooking demonstrations, face-painting, lunch, show bags and health checks. Information about nutrition, physical activity, chronic-disease prevention and childhood health were also delivered on the day.
For more information about the Gandangara Aboriginal Medical Service go to www.glalc.org.au