Goondir Aboriginal and Torres Strait Islanders Corporations for Health Services (Goondir Health Services) covers a huge area of about 160,000 km sq and it services more than 5000 clients. Since its inception in 1994, the service has increased in size to accommodate the growing demand for health services and meet varying health trends.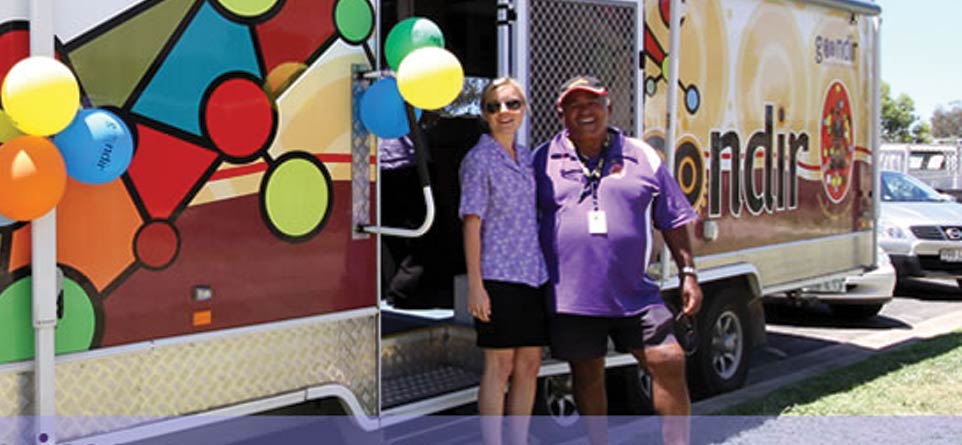 The Goondir Health Service is an Aboriginal Community Controlled Health Service providing primary health care and related health services to the local Aboriginal and Torres Strait Islander (ATSI) communities from Oakey in the South East of Queensland, Australia to St George in the South West of Queensland.
Goondir Health Services has medical clinics located in the towns of Dalby and St George. It also covers the communities of Oakey, Jandowae, Surat, Dirranbandi, Thallon, Chinchilla, Tara and their surrounding areas. The unique services offered by Goondir are tailored with sensitivity to meet the cultural and traditional values of their Aboriginal and Torres Strait Islander clients.
Goondir Health Services was incorporated on 19 April 1994 and funding was made available by the Aboriginal and Torres Strait Islander Commission (ATSIC). Currently, Goondir Health Service's major funding is from The Australian government Departing of Health and Ageing, Office for Aboriginal and Torres Strait Islander Health (OATSIH). The organisation is a "Community Controlled" – meaning it is managed overall by a governing committee that is elected by its members. Goondir Health Service's vision is Better Health, Better Living, Longer Life.
Goondir's mission is "to equip the organisation with the appropriate medical facilities and resources to deliver programs in a culturally appropriate and sensitive manner to improve the health status and well-being of all Aboriginal and Torres Strait Islander people in the service region.
Services
As well as delivering primary health care services, Goondir actively promotes intervention programs and educational programs that encourage and assist clients to self-manage their chronic conditions.
An example of this is with diabetes care. The Diabetes Program aims to improve the health of Aboriginal and Torres Strait Islander people with diabetes (and their families) through education and training based on the improvement and management of diet, physical activities and weight management. It also aims to help clients to self-manage their chronic illness.
By working together with the Diabetes Coordinator and the health team, clients can access a full health assessment, screening and testing (e.g. blood sugar levels, HbA1c, urine, ACR and cholesterol checks), regular health checks by medical staff, foot and eye specialists and the dietician, a health care plan with regular reviews, and activity days which address diet, exercise and health in all areas that affect diabetes s well as referrals to a range of visiting specialists.
Maternal & Child Health
The Maternal and Child Health Program is a regional program that provides free services available to all clients with children from birth to school age. The services provided to families with young children include education and health promotion, early identification and intervention as well as linking families with relevant health professionals or support agencies.
The Maternal and Child Health Program is staffed by a Registered Nurse, with qualifications in Midwifery. The Nurse is qualified to provide health checks, pregnancy care, and advice on health issues.
The Maternal and Child Health Program supports parents to meet the demands of early parenthood. The Program offers information, guidance and support to families on breastfeeding,   child health and development, maternal health including antenatal, intrapartum, postnatal care and home visit support, immunisations, child accident and injury prevention, nutrition,  family planning and regular child health checks.
Mobile Medical Clinic
Goondir Health Service has established a Mobile Medical Clinic (MMC) for outreach screening service for chronic diseases.  This is a proactive strategy in combating the burden of chronic diseases amongst the Aboriginal and Torres Islander people residing within the communities. This service aims to improve the prevention, early intervention and management of chronic disease, as well as assist with the promotion of good health and well-being throughout the entire Aboriginal community.
The Mobile Medical Clinic will service a target area of approximately 180,000 square kilometres in the South West Queensland. The towns and communities that the MMC will be providing services to are Chinchilla, Dalby, Dirranbandi, Miles, Oakey and Tara. The Mobile Medical Clinic is staffed by a doctor, MMC Coordinator (Registered Nurse), and an Aboriginal Health Worker.
Hearing Health
Hearing health screenings are carried out at our Goondir clinics and selected schools in the region. Hearing Health screenings are available for 0-5 Years, School-aged children and adults. Follow-up treatment is available and where necessary and clients may be referred on to the appropriate specialist for further treatment.
Onsite Pathology Services
Dalby Goondir Health Services also offers the onsite pathology services of QML Pathology (Queensland Medical Laboratory).
QML Pathology is one of Queensland and northern New South Wales leaders in medical diagnostic testing, providing a professional service to patients and the medical community. Our network is supported by over 350 collection centres, 24 laboratories, 35 pathologists, and over 2000 staff, offering a comprehensive range of diagnostic pathology tests for more than 15,000 patients per day.
Sexual & Reproductive Health
The Sexual and Reproductive Health Program aims to provide education, awareness, health promotion, prevention and intervention strategies to clients and the community regarding sexual and reproductive health. Goondir recognises the importance of delivering culturally responsive sexual and reproductive health services to clients.
The program is open to both males and females looking for information regarding safe sex, treatment and/or advice on sexually transmitted infections and diseases, sexuality, contraception and more.
Social and Emotional Well Being SEWB
Goondir has Counsellors who are able to address a full range of emotional and social problems endured by survivors of the Stolen Generation and their families.Good mental emotional health is a vital part of overall good health and wellbeing. It is just as important to maintain good mental health as it is to maintain good physical health.
The Mental Health Counsellor is responsible for providing assessment, case management, referral and follow-up for clients seeking assistance with mental emotional issues. Episodes of mental emotional un-wellness can come and go in periods throughout people's lives. The Mental Health Counsellor can assist people to understand your personal and emotional issue/s and help to ease the pain and discomfort that these issues can cause.
The Substance Misuse Worker addresses issues and challenges that are faced by clients with drug and alcohol issues and understands the importance of harm minimisation and advocacy for an often marginalised client group.
For more information about the many services at Goondir Health Service visit http://www.goondir.org.au/