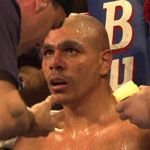 With 38 professional fights to his name, not to mention Commonwealth and Pan Asian Boxing Association titles, champion boxer Kevin Kelly has surely created a spot for himself among the pantheon of Australian greats.
Always a fit young fulla, Kevin remains the youngest person on record to have completed Sydney's City to Surf fun run – as a seven year old, no less. And like his younger brother Glen, Kevin was first introduced to the sport by their father, who would take his boys down the gym to keep them fit during footy's off-season.
Turning professional in 1992, Kevin wasted no time in winning the New South Wales welterweight title at the age of 22. The next year he moved up a notch to claim the New South Wales light-middleweight (aka junior-middleweight) title, and in 1995 was declared Australian light-middleweight champion.
Looking to expand his area of reign, Kevin challenged Leo Young later that year to claim the Commonwealth light-middleweight title, and in 1997 was victorious over Kiwi Jason Rarere to take the Pan Asian Boxing Association title.
"That title gave me a top 10 world ranking," says Kevin. "From there I worked my way up the rankings to eventually fight for the WBA world title in 1999 against David Reid in New Jersey. Unfortunately I was beaten on points. Many at the ringside thought I'd been robbed, but it just wasn't to be.
"When you're going overseas to fight under someone's promoter, they're basically taking you over there to lose – there are no two ways about it. I knew that if it were close, I would never get a decision. So after the fight, when they awarded it to him, I wasn't surprised at all."
While his brother Glen's idol is Roy Jones Jnr, Kevin nominates undisputed world champion Bernard Hopkins as his. "He is 37 years old now and still at the top of his tree, which is remarkable for a boxer. I admire the way he fights and the dedication that keeps him at the top."
Kevin's most recent fight was in February against rising Welsh star Gary Lockett in Manchester. "The ref stopped it in the fourth round after I'd been knocked down. I got up at the count of eight, and he counted nine, 10, and waved it away. I was dazed, but I was steady on my feet. I was ready to continue."
Now after 10 years of professional boxing and with 26 solid wins under his belt, Kevin Kelly has decided to call it a day. "There comes a time when the politics of it all just gets you down, so I am looking forward to the next stage in my life. I've been offered a position training a couple of amateur boxers, and I'm really just looking forward to seeing more of my wife and having a family."
Vibe wishes Kevin all the best for the future and hopes to see his young charges turn into champs, just like their trainer!