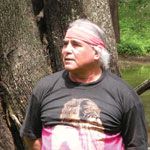 Deadly Vibe Issue 104, October 2005
Living Legends
Another Australian music legend is inducted into the Aboriginal music hall of fame.
The Deadlys 2005 saw the second presentation of the Jimmy Little Award for Outstanding Achievement in Aboriginal and Torres Strait Islander Music. This year's presentation was made all the more special by having the award's namesake at the ceremony to hand over this prestigious gong.
"It's an enormous honour to have this award named after me," Jimmy says. "All of this year's nominees deserved to win " they have all done so much for Aboriginal music and for our community."
Kev Carmody was chosen by Indigenous Australia to be the recipient of Jimmy's award in 2005. Kev has long been an outspoken representative of Aboriginal Australia " he uses his music as a vehicle to protest the unfairness and hypocrisy of the world, and is one of our most visible ambassadors.
Sadly Kev was unable to attend the ceremony, however close friend Richard Frankland was there to accept the award on Kev's behalf.
In his acceptance speech, Richard spoke movingly about the Stolen Generations and the damage that it is still causing Indigenous families across the nation. He dedicated the award to freedom; asking the audience to be upstanding as he held the Deadly statuette high.
(story date October 1, 2005 end)