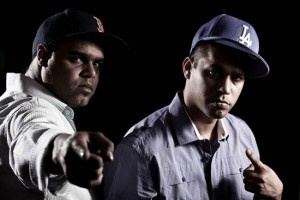 The Yung Warriors have embarked on their national Hip Hop Corroboree tour that will take in venues in all major capitals and regional centres from the East Coast across the Nullarbor.
Manager Nathan Lovett-Murray has pre-season footy commitments with Essendon, so he isn't accompanying the boys on tour, but he did see them off to their first show on November 1 at Warrnambool.
"They are doing 14 shows around the country. It is going really well. Triple J just picked up their second single to radio which is called "Pray For Better Days", featuring Diaffrix," Nathan says.
"The first single release off the album "Standing Strong" did really well on Triple J – more than 30,000 downloads and playing on high rotation. Triple J is presenting and helping promote the tour as well."
Some of the other artists on the tour include Street Warriors in Brisbane, rapper Knowledge Bones in Wollongong and Chrissy J in Melbourne. Johnny Mac is performing at most of the shows, as well as Young Filly.
Prior to heading out on tour, the Yung Warriors picked up Deadly Awards for Single of the Year and Hip Hop Artist of the Year. They also performed at the Deadlys on September 25 on the Sydney Opera House stage.
"The boys have been nominated four times, so they were happy to finally win a Deadly. It is all starting to pay off for them. Also, just the opportunity to perform on the main stage with the other rappers doing "Standing Strong" – it was a great performance. They also performed at the Deadlys' After Party.
The Yung Warriors (brothers Tjimba Possum Burns and D-Boy – Narjik Day Burns) are one of Australia's leading Indigenous and cultural music ambassadors. They've supported the likes of Akon, 50 Cent, The Game and Outlawz, as well as performing regular community gigs in their hometown of Melbourne.
The Yung Warriors come from a great lineage. They are the sons of Selwyn Burns from legendary Indigenous band Coloured Stone. Collaboration with international heavyweights Outlawz (Tupac's group) and others has established the band firmly on the Hip Hop circuit.
The guys did a national tour last year with Coloured Stone and No Fixed Address. Tjimba did a spate of re-mixes with Bunna Lawrie (Coloured Stone), including "Black Boy", and also with Uncle Bart Willoughby (No Fixed Address).
The album Standing Strong contains 15 tracks. On its release, Tjimba described it as a "bit of a mix up".
"I have been messing around with some beats and mixing all that sort of stuff up. It is deadly experimenting with music like this. The acoustic stuff gives it that crisp sound," Tjimba said.
"We have really developed as artists with the production and bringing that acoustic sound up more. There are some cruisy songs and also some anthems in there. We tried to mix it up – it is an awesome juggle."
The Yung Warriors have been together for about seven years. They released their debut album Warrior 4 Life in 2007 and have played at events including the Big Day Out (2008), Yabun in Sydney, and the World Indigenous Peoples Conference. They are now on the Payback Records label.