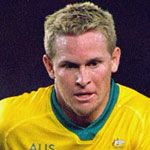 Kasey Wehrman is up there as the best players yet. He made his senior international debut in Brisbane during the Oceania Nations Cup, where he was one of the only players to shine for the Socceroos in what was a disappointing tournament for Australia.
His vision for the game is extraordinary and without him we'd be well and truly up the proverbial creek without a paddle.
Kasey was born in Cloncurry, western Queensland. In the 1996/97 season of the NSL he was voted in as the Under 21 Player of the Year, Rookie of the Year and Supporters' Club Player of the Year. At the 1997 World Youth Championship in Malaysia, Kasey broke his ankle just before the tournament began which forced him out of the competition for a while, yet this injury has not held him back from proving to be one of the Strikers' most promising and applaudable young players. Kasey is the current Australian International and Australian U/23 International.
International Appearances("A" internationals/other):
8 (6/2)
International Goals:
0

International Debut:
Australia v Fiji (won 3-1), Brisbane, September 1998

Last Match for LG Socceroos:
Australia v Slovakia, Chile, February 2000

Other Representative Honours:
U/23 Current Squad Member 15 games U/20 1997 World Youth Cup qualifiers

Representative Honours:
1997 World Youth Cup Squad (out injured).
Olyroo tour of Argentina and Chile, July
Socceroo tour to U.S.A., November 1998
Olyroo squad vs China U/23, November 1998
QLD Academy of Sport representative 1994-96
Australia U/20s, U/23s
Name:
KASEY WEHRMAN

Position:
Midfielder

Age:
22

Date of Birth:
16 August 1977

Place of Birth:
Cloncurry

Height:
180cm

Weight:
70kg