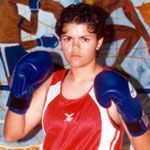 Thailand's King's Cup is the mecca of international Muay Thai kickboxing. With over 100 countries vying for supremacy each year, the competition showcases the fiercest talent from around the globe.
Introduced to the sport only three years ago, 21-year-old Kamilaroi woman Julie Livet is proving she can hold her own with the world's best.
In February this year, armed only with confidence and self-determination, Julie, nicknamed "˜the Jet', headed off to Thailand to compete in this prestigious competition. Once there, she enlisted in a training camp run by Stephan Fox on Koh Samui, a little island off Bangkok.
Not long after she joined the camp, Julie got a call from Joe Hilton, coach of the Australian kickboxing team. He was so impressed by her form that he offered her the chance to represent Australia in the 54kg weight division of the King's Cup.
It was a debut she'll never forget.
"I was pretty nervous and drew one of the hardest girls in my weight division," says Julie from her home in Moree. "She was Italian and one of the favourites to take out the competition. Although I lost by a very close decision, I was happy with my performance because I competed strongly."
Julie's father, Terry, had travelled with her to Thailand and watched her compete.
"I'm very proud of her," he says. "The standard was extremely high and Julie will gain great experience from it. There were continuous fights happening for seven or eight hours with only two-minute breaks between fights. It was very professional and certainly something I'll never forget."
Now that she has represented Australia, Julie plans to return to Thailand in the near future to continue in her quest for a shot at the world title. And with a record of nine wins and two losses from just 11 fights so far, Julie is surely on her way to the top.
Currently ranked number three in Australia, she says she'd like to win the Australian title or an intercontinental title by the end of the year. "Next time I go to Thailand, I would like to fight for and win the world Muay Thai kickboxing title."
While traditional kickboxing only allows kicks and punches, in Muay Thai you can knee, elbow and grapple. As such it's a tougher competition that requires considerably more stamina than the traditional form.
Even though they wear body armour, headgear, a chest plate, elbow guards and shin guards, Elite Muay Thai kickboxers can expect a certain amount of bumps and bruises during bouts. Julie's first international fight proved to be no exception.
"Even if I'd won I may not have been able to compete in the second round because my legs were badly bruised. Although the Italian girl won, her tournament was over. She couldn't fight in the second round because she was injured after fighting me."
Each Muay Thai match consists of five three-minute rounds, compared to traditional kickboxing, which has a shorter fighting time of only three one-and-a-half-minute rounds. Fitness, stamina and mental ability are thus crucial to flourishing in this tough sport.
Julie has been a keen sportsperson since her schooldays. She used to play volleyball, tennis, touch footy, and was a member of Moree's BMX club for five years. In 1995 she competed at the Australian National BMX Championships and finished ninth.
Coming from a family of kickboxers, Julie has had plenty of opportunity to practise with a variety of sparring partners. Her 15-year-old brother, Ben, recently joined Moree's PCYC Muay Thai Club, while older brother Daniel, 23, has had more than seven fights.
"Thai boxing is really big in New South Wales, Queensland and Victoria," says Julie. "Australia has a really strong standard and is one of the best countries in the world for the sport."
It takes a lot of commitment, dedication and single-mindedness to get to a representative level in Muay Thai kickboxing. Julie has had her ups and downs along the way, but she is confident and determined to take her talent as far as it can go.
"I would like to represent Australia in the King's Cup every year and manage my own Muay Thai school, where I could teach and pass on my knowledge when I retire."