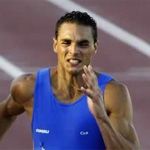 Deadly Vibe Issue 93 November 2004
Right on track
While most of our Deadly winners were happy to kick up their heels at the after-party and celebrate their success, Josh Ross had much more serious matters on his mind. You see, our Male Sportsperson of the Year has Commonwealth gold in his sights.
"I'm already in training for the 2006 Commonwealth Games," the handsome young sprinter says. "I had a short break after the Olympics, but now I'm right back into it."
It's no wonder Josh is brimming with confidence. At the Athens Olympics earlier this year, he recorded a personal best time in his 100-metre heat at the Athens Games.
"It showed how much strength I have within me and how, if I push myself, I really can achieve bigger and better things," he says.
The 23-year-old was also a member of the Australian men's 4×100-metre relay team, which reached the finals for the first time.
"I didn't even realise that we'd made the finals," Josh says. "I finished the race and the guys just came over and jumped on me!"
Winning a Deadly for Male Sportsperson of the Year was something else that took Josh by surprise – you just had to take one look at his amazed expression when he came up on stage to accept his award.
"I was really shocked that I won," he admits. "I never expected that it would be me."
The award is just one more victory that will keep Josh fired up and motivated for his next big challenge. He is currently funding all of his training and preparations himself, but is hopeful that this won't always be the case.
"I don't have any sponsors at present," he says. "But I'm sure things will change sometime soon."
(story 1/11/2004 end)
Deadly Vibe Issue 92 October 2004
Joshua Ross, athletics, 100m, 4x100m relay
Super-fast Joshua Ross burst onto the athletics scene when he won the famous Stawell Gift professional foot race in 2003. Running off a seven-metre handicap, he became only the fourth Indigenous athlete to win the event in its 122-year history.
He went on to win the 100-metre championship at the 2003-04 Australian Track and Field Championships, which qualified him for Athens.
At the Olympics, Josh made it through to the second round of heats in the 100 metres, recording a personal best time of 10.22 seconds. It wasn't enough for him to qualify for the semi-finals, but he did manage to shave two-hundredths of a second off his personal best, which was his goal heading into Athens.
Joshua was also part of the successful men's 4×100 metres relay team, which made it through to the finals. The team, which included Patrick Johnson, Adam Basil and Paul Di Bella, came in sixth.
In the heats, the team recorded the fourth-fastest time ever by an Australian team.
(Story 1/10/2004 end)
Newcastle university student Joshua Ross blitzed a stellar international line-up to take out the prestigious Stawell Gift " one of the world's richest professional foot races – in April this year.
He's been showered with attention since the amazing win " even Ralph magazine has interviewed him "a but there's still one thing he hasn't remembered to say in all those articles.
The 22-year-old's barber would like everyone to know that he, too, had something to do with the Indigenous athlete crossing the line first in a time of 11.92 seconds.
" He said to me, "˜The next interview you do, can you say it had something to do with the aerodynamics of your haircut?'" Joshua says, laughing.
Even though Joshua does indeed sport short back and sides, his victory in the 122nd Stawell Gift probably had more to do with a full 12 months of hard training and some serious tactics that saw him start the race as red-hot favourite off a favourable seven metre handicap.
While Joshua remains tight-lipped about the pre-race handicapping tactics " "it's tricky" was all he would say " gaining a favourable handicap is all part and parcel of the regional Victorian race, which carries a $32,000 purse. Joshua spent much of his childhood running. He joined Little Athletics in Woy Woy at the age of eight, and spent the next eight years running. At 16, he gave up training for the lure of partying with his mates. But at 20 he was suddenly hit with the urge to run again when he watched the Sydney Olympics 100m race on TV.
" I thought, "˜It's been a while now, I think I'll get back into it," Joshua recalls. "I was pretty slow at first but I stuck with it and trained hard and I've been going all right." That's an understatement. His start at the Stawell Gift this year was his third go at the hotly contested race. Last year, he made only the semi-finals after four months of training. That's when he realised he needed to work harder if he was to ever taste Stawell Gift victory.
His training, in fact, went so well that he was brimming with confidence in the lead-up to race day. "I never thought I was going to lose," Joshua says.
" I was giving myself a lot of self-positive talk," he says. "I studied a bit of sport psychology in the lead-up to the race so I was ready for it." Even though he was brimming with confidence, he woke up the morning of the race feeling nervous. He didn't feel hungry, but forced himself to eat in preparation for the early-afternoon race. Joshua says running the race itself "was like a dream".
" And it still is, when I watch it back on tape," he says. "It's just about sunk in now. The training was hard work but it was worth it in the end."