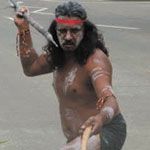 Deadly Vibe Issue 109 March 2006
Brother in Lore
With every brush stroke, John Kelly imparts his own special brand of cultural knowledge.
When John Kelly talks, you instantly know that art and culture are two things he feels very passionately about. In fact, to John they are as one.
"My father told me to paint my surrealism; to paint what was in my mind," he says. "I never draw anything beforehand. I visualise it, and then I approach the canvas and just attack it."
Through his art, John has been able to express his passion and love for his culture and traditions in a way that has brought him personal satisfaction as well as success and recognition.
"I started painting around nine years ago," he says. "My mother was, and still is, a painter and my father is a very cultural man. I listened to the old people and gained some of their knowledge in the way of symbols and the way of the land.
"I spent time around traditional artists such as Basil McLeod, and I saw what a great feeling they got from what they were doing, from their paintings. That led me to begin painting myself, and gradually I began to develop my own kind of style.
"Basil was a big inspiration to me. But now I am my own inspiration; I am my own mentor."
While he may have only been painting for the past nine years, John's art work, which he described as being expressions of Dunghutti culture and dreaming, has already reached some lofty heights.
John's paintings have been displayed in galleries such as the Washhouse and Boomali in Sydney. His painting Bunyip, depicting rings of water on the surface of the river, now hangs in NSW Parliament House, and he also designed the artwork for the set of last year's nationally broadcast Deadly Awards. Another special achievement has been the inclusions of six of his painting in a tribute to Nelson Mandela.
"We were given some words of Mandela and some charcoals drawings of his and from that we were to develop our one artwork," John explains.
"Inspired by the life of Mandela, I did six paintings and based them on youth, struggle and freedom, all of the things that embody being an Aboriginal person."
Artistic expression is not the only way in which John celebrates his culture and passes on traditional knowledge. He is an actively involved member of his community in Kempsey on the New South Wales north coast, and also performs traditional dance.
At the moment, John is helping raise funds for a project called The Journey of the Northern Star, which aims to send 22 young men from the Kempsey community to the Croc Fest in South Africa. He is also endeavouring to establish a new radio station in Kempsey within the next two to three years.
Having a strong sense of culture and a passion for imparting traditional knowledge, John never needs to look far for inspiration.
"I am inspired every day that I wake up," he says. "Just by being alive and being an Aboriginal person.
"My inspiration is painting the dreamtime stories of the Dunghutti people. Because we are so spread out we need to preserve our culture. Not just for our own people but for all Australians. They need to know what our culture is about."
(Story 13/2006 end)