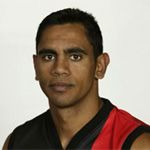 Also on the rookie list in 2001 is Collingwood Magpies youngster Nathan Lovett-Murray. At just 18 years of age and fresh out of high school, he's keen to get his taste of first-grade football this season.
Nathan has played in the TAC Cup, Australia's most elite under-18 competition, with the North Ballarat Rebels, and late last year was drafted to Collingwood.
And while he isn't yet an official full-time Magpie, Nathan is one of the real stars of Collingwood-affiliated club Williamstown. "I prefer to play on the wing, that way I can utilise my speed," says Nathan, who is without a doubt one of the fastest on his team.
Nathan Hails from Lake Condah, just outside Heywood in southwest Victoria. Although it only has a population of 2,000, that certainly didn't prevent young Nathan from enjoying a sun-filled childhood.

"I would get together with all my cousins and we would go camping, perform Aboriginal dancing, and play heaps of sport like basketball, cricket and footy."
Nathan describes Lake Condah as his favourite place in the world. Whenever he gets the chance, he loves going back there to catch up with family and friends.
When not training for footy, Nathan works at Fitzroy Stars Gym and often goes out to Aboriginal schools to promote the game, teach on-the-field skills and act as a role model.
But above all, Nathan likes to head down to the park and shoot a few hoops on the weekend with fellow team-mate Leon Davis.
Nathan is regarded as a utility type who could play across the halfback flank, and Vibe hopes to see him playing for the Magpies real soon!