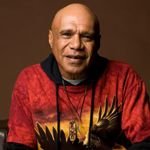 Everyone these days knows who Archie Roach is. The talented singer songwriter and guitarist is a legend not only in the musical community but also in the Aboriginal community for his powerful voice which he uses not only for singing but for story telling and bringing attention to Indigenous rights. He survived a turbulent upbringing and alcoholism to go on to win an international Human Rights Achievement Award as well as numerous music awards including Deadlys and Arias.
Despite his successes, Archie says he still has a lot to say and wants to keep on recording new songs for as long as possible. But these days he is also reflecting a little on where it all began. He has just released an album of his first ever recordings. The album is from a younger, but no less talented Archie and reflects his passion for not only music but his people.
Recorded around the bicentenary the album, 'Music Deli Presents Archie Roach – 1988' not only shows how far Archie has come but is also a good insight into the history of Aboriginal rights. It reflects how, at a time when most of Australia was celebrating, many of our people were feeling anger and despair over struggles such as land rights and deaths in custody. For a young Archie Roach, the best way to deal with these feelings was to express them in songwriting.
"We listened to those recordings late last year and my manager thought it would be a good idea to release them," says Archie. "I started out back in 87 when I started writing 'Took the Children Away' and I also started writing songs in protest of the bicentennial. I wanted to release these songs just to let younger people know what it was like for Aboriginal people back in 1988. We were just making a stand back then and people came from all over Australia and converged on Sydney. We were looking for change of course but the main point was to make a stand against the bicentennial and to let people know there is a black history in this country."
Back then, Archie was struggling with his own demons, including alcoholism. He says that listening to the songs reminded him of who he was then and of his struggle to find peace.
"It takes you back to that time," says Archie, "I'd been drinking since I was about fifteen then, so I'd had a good twelve years of drinking alcohol and getting sober was a hard thing. I think writing those songs was therapy for me at the time. There was a lot of muck in me that had built up and music was a way of dealing with that and being able to express it without going off half-cocked against someone and getting violent or drunk. I always credit music and songwriting and the energy you put into it as having kept me away from drink – it's very therapeutic."
Although Archie says a lot has changed for him since those early days he says that the fire in his belly is still just as strong as ever.
"I'm not totally different now to the person I was then," says Archie. "There are still things that I get pretty upset or indignant about – especially when any people or groups of people in this country are having a hard time for one reason or another. Today my music, my songs, my vision has broadened and I've realized that I'm singing about all people. I'm still singing about Aboriginal people but once you start to deal with that you also start to see other people struggling in this country and having a hard time," says Archie. "Travelling the world broadened my horizons and I think we're very lucky people every one of us that lives in this country called Australia – we're blessed and we should realize that and really go forward as a nation of people from all walks of life. People are moving on the ground and I reckon we could truly lead the world if we all come together and get it right one day."
Archie says that while he is incredibly grateful for where his journey has taken him, he never really had any particular musical ambitions other than to express what he was feeling.
"After I stopped drinking I was happy and I started working in drug and alcohol rehabilitation and became a counselor working in the community. I was a liaision officer at men's homeless shelters and I loved that work and giving back to the community. Most of the people I worked with I knew – they were old friends of mine – so working where you know the people was great, I loved it – that's what I thought I was going to do – I wasn't really looking for a career in music. I just wanted to record those songs in '88 because I had a chance to do it and I wanted to try to get people to understand a little bit about how I felt as a young Aboriginal fella in Australia during those times."
Looking back, Archie says it was winning his first Aria award that really changed who he was and helped him decide to move forward.
"The first Aria awards I went to in Sydney, my album Charcoal Lane was nominated for Best New Talent and Best Indigenous Album and I won both and it was quite an amazing experience," says Archie. " I remember getting the Indigenous album award and I thought, 'that's good' but didn't think about winning the best new talent so I went outside and had a bit of a smoke. Next thing, Paul Kelly's manager at the time Rob Barnham said, 'Archie quick, they're announcing best new talent.' I was up against some good competition so I didn't know what to expect. So when I won it I felt like we were accepted and that I'd finally found some place that people accepted me for who I was and what I do. After that everyone wanted a piece of me and wanted to know me which got a bit scary after a while 'cause I wasn't used to all that attention."
Despite all the success Archie says he hasn't just changed that much as a person although he admits his approach to music is very different.
"Listening to those songs today I'm listening as an older, more experienced musician and I think, 'oh those songs were just babies they hadn't really grown yet that's how spontaneous they were'", says Archie. "They were written not long after we'd recorded them. Today after working with people like Paul Kelly and all the wonderful Australians musicians and producers I've worked with through the years, I've picked up things from them that have helped to develop my music – it all goes round and we give each other help to develop ourselves."
Despite having just released this album, Archie says he is looking forward to releasing his next album next year and says he has no plans to retire any time soon.
"When I started off after the Arias it got a little scary and I came through all of that – I don't know if I burnt out but I came close," says Archie. "But as long as I can keep on making music and people in communities or anywhere want me to keep on playing then I'll keep doing it."
Archie Roach is touring throughout December 2009 for dates and venues visit www.archieroach.com.au