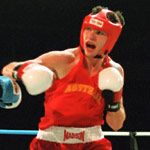 Deadly Vibe Issue 92 October 2004
Jamie Pittman, boxing, 75kg division
Currently Oceania champion in his weight division, Jamie had an unusual introduction to boxing. When he was 10 years old, he fell through a window and needed 62 stitches in his arm. His doctor recommended boxing as rehabilitation, and since then Jamie has never looked back.
He's has been training for eight years to get to the Olympics. In 2000, he narrowly missed out on a chance to box at the Sydney Games after he suffered a cut eye in the trials and the team doctor called off the fight.
At the 2002 Commonwealth Games he went into the last round of his quarter-final in the 71kg division against the eventual gold medallist. Despite this, he was still named winner of the best boxer award.
Last year he took gold in the Commonwealth Challenge at Kuala Lumpur.
Jamie has won five junior state titles and six senior state titles, one Golden Gloves and three senior national titles. He has competed at more than 10 international competitions, including the World Boxing Championships, the World Cup and the Chemistry Cup.
In Athens, Jamie failed to land a favourable draw, and went down to German boxer Lukas Wilaschef in a close contest: 24-23.
(Story 1/10/2004 end)