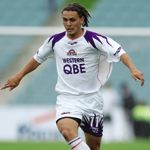 Deadly Vibe Issue 92 October 2004
Jade North, men's soccer
Jade North, a 22-year-old defender from Sunnybank in Queensland, was selected in the Australian Joeys team for the 1999 Under-17 World Cup played in New Zealand while he was on an Australian Institute of Sport Soccer scholarship.
At the tournament, Australia lost 2-1 to soccer greats Brazil in the final, the highest place Australia has finished in a world soccer competition. Jade played solidly at wide right midfield throughout the competition.
In 2001, Jade was selected in the Australian Under-20 squad for the Oceania qualifiers for the World Youth Cup.
He won NSL Championship medals with the Olympic Sharks in 2001 and 2002, and with Perth Glory in 2003 and 2004. He also made four appearances for the Socceroos up until 2002, and was called into the Socceroos squad again in 2004 for matches against Turkey and for the Oceania Nations Cup and the 2006 FIFA World Cup preliminary competition.
He has been training in Europe since the end of the National Soccer League season, and looks set to play for the European League in the not-too-distant future.
Jade got his chance for Olympic glory when he was called up as a last-minute replacement during the Olympic qualifiers. The Olyroos won selection after drawing with New Zealand.
At the Athens Olympics, the team made it through to the quarter-finals before being defeated by Iraq 1-0.
(Story 1/10/2004 end)
Deadly Vibe Issue 87 May 2004
At only 22, Jade North is already a bona fide superstar of the National Soccer League and one of a crop of youngsters who is likely to be heading overseas shortly to play in the European leagues.
Before this happens, however, Jade has a more immediate trip on his mind. With the 2004 Olympic Games just around the corner, he is preparing to represent his country with the Olyroos as they take on some of the world's best in Athens.
Something that will put Jade in good stead for future international matches is his big-game experience. As a member of the Olympic Sharks and, more recently, Perth Glory, Jade has played in the past three NSL grand finals, finishing with a winner's medal on two out of the three occasions.
Jade didn't have much time to celebrate the Glory's finals success, however, as he jetted off to Europe to join the Australian junior national squad in Europe for the upcoming campaign just a few days after the grand final.
And with soccer being one of the most popular sports at the Olympic Games, we can't wait to see Jade fly the Aboriginal flag for the Socceroos in Greece come September. Go, Jade!
(Story 1/5/2004 end)
Olympic Sharks recruit Jade North is one of a growing number of Indigenous soccer players achieving recognition at the highest level.
If you haven't yet heard of Jade " don't worry, you will! Over the past three years, his dreadlocked mane and pace on the field have caught the attention of fans and soccer selectors alike.
The 19 year old from Taree might be copping some flack from his grandmother over "˜that hair', but he believes it's good to have your own image. Certainly in today's sporting world, dominated by the need for corporate sponsorship, it doesn't hurt to stand out from the rest. And after his winning performance with the Olympic Sharks phenomenal NSL 2002 grand final, that's exactly what he's doing. So much so that Frank Farina has selected him for the Socceroos.
"Jade has had a fantastic year, culminating in Socceroos selection for the upcoming Oceania Nations Cup tournament in New Zealand," says Frank. "I think that Jade has a very bright future in the game."
Which is just as well, as Jade North has never even contemplated doing anything else. A soccer player from the age of eight, Jade drew his inspiration from watching the likes of Maradonna in action, as well as participating in his uncle's training sessions at the local park.
"I used to love watching the game on TV when I was a kid and my uncles used to play a bit when I was younger," he says. "They used to take me down the park and kick some balls around and that's really what got me started."
At high school, Jade lived and breathed soccer. So it was only a matter of time before his growing talent as a soccer player was noticed. "When I hit high school there were camps for this thing and that thing and soccer just became part of my school work. I'd do a bit of training, a bit of school work, then more soccer."
At age 17, his dedication paid off when he was chosen to train at the Australian Institute of Sport under his current coach Gary Phillips. That year, soccer became Jade's passport to the world. Never having travelled before, he set off on tour with the U17 national team.
"The first place I went to was China. We trained on dirt pitches because we couldn't find any grass to play on and, at the same time, we were playing in some huge stadiums. I learnt a lot from travelling. I saw the good side of China but I also saw a lot of poverty. I've been just about everywhere now, but it's always good to get home."
Jade's passion for soccer hasn't just taken him around the world. It's also taken him to the elite level at which he now plays. Up until recently, the highlight of Jade's career had been playing at the U17 World Cup final as part of the national team in front of 24,000 people. "That was amazing," he recalls. "But winning the NSL championship in Perth was even better. The crowd was huge " over 43,0000 people."
It wasn't an easy victory, however. As underdogs going into the match against local favourites Perth Glory, the Olympic Sharks were determined to get a grand final victory, despite the fact that they hadn't had one in over 12 years.
"The odds were against us and the crowd was against us. But you need to be strong enough to overcome those things and, at the end of the day, it's 11 on 11 on the field, even if a crowd of 43,000 is against you."
According to Jade, overcoming the odds is just part of going for what you want. Soccer is not just a physical game, he says, but a mental game. So despite the Perth crowd's lack of support for the Sharks, Jade still celebrated their victory, on the field and in the days that followed.
"At the end of the grand final the crowd left before we could even collect the trophy. But we still did a lap of honour even though there was no one left in the stand! Perth was definitely the biggest mental game I've played."
It's Jade's ability to play a thinking game that coach Gary Phillips says has made all the difference. "Whenever he's asked to do a job he just gets on with it and doesn't make a fuss, and like any great sportsperson he believes in himself. In his junior days he was a creative midfielder, but this year I played him at the back as a marker and he was able to justify his position and show his strengths in that role."
Jade has always enjoyed the challenge of playing whatever position is thrown at him. "My strength is my defence, and I've got a bit of pace. It's great playing with the Sharks because I can attack as well as defend and not many teams allow their defenders to do that."
Then again, Jade is used to being a bit different. League and Aussie rules are the sports that have traditionally attracted most Australian kids with stars in their eyes. But that's slowly changing. Soccer is gradually receiving more media coverage and Australia looks set to catch a healthy dose of World Cup fever over the next little while. And with a push by Soccer Australia to raise soccer's profile in Indigenous communities, it's obvious they know where to look for tomorrow's champions.
"We've run pilot programs in Queensland, the Northern Territory and Victoria to introduce soccer to Indigenous young people, and to train up local instructors and managers so there is a community infrastructure," says Soccer Australia's coaching and development manager Jim Selby. "We're really trying to encourage young females to get into soccer, too. Some of the Aboriginal girls we've seen in regional and rural Australia have a lot more talent than their city counterparts. We've got to identify these kids and nurture them."
For any young hopefuls wanting to follow in his footsteps, Jade has these words of advice. "The more you want your goals, the easier they are to achieve. Always give 100 per cent and you'll achieve the goals you want in life."
Deadly Vibe Issue 80 October 2003
If you can't beat 'em, join 'em. That's exactly what soccer sensation Jade North did following his team's defeat in last season's NSL grand final.
Jade has tasted both victory and defeat in the past two grand finals with Sydney-based team the Olympic Sharks. Both times, the Sharks squared up against the Perth Glory, the club that has now acquired Jade's services for the new season.
"My last season in Sydney was a little disappointing," says Jade. "Even though we finished with the minor premiership, we didn't play as well as we could have during the finals. It was disappointing to lose the grand final after winning it the year before.
"I was still pretty happy with my form through the year, even though it didn't quite match up to the previous season, where I won club player of the year and the grand final."
Following the grand final defeat, Jade spent time with friends and family in Brisbane and Melbourne before relocating to Perth to begin training with one-time rivals turned new team-mates the Perth Glory.
"I'm loving it over here," says Jade about his new home. "I've settled in really well. The team and coach already know my game well from having played and coached against me in the grand finals, so I've been able to adjust into the team easily. I'm playing much the same kind of role as I had at the Sharks."
After experiencing what it was like to face the parochial Perth fans as a loathed opponent for the past two seasons, Jade is looking forward to having the Glory faithful on his side for a change.
"The Glory has a huge supporter base and it's going to be awesome playing for them, especially when the finals come around and we'll have 20,000 to 40,000 people cheering us on," says Jade.
Apart from the excitement of playing football in a soccer-mad city, Jade sees his move to Perth as a great chance for him to advance his already distinguished career.
"This is a big move for me, and I see it as another step forward towards Europe," says Jade. "With the Olympics coming up next year, I have an opportunity to play for the Olyroos against the world's best young players. I can't wait."
(Story 1/10/2003 end)