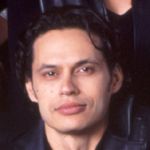 Ivan Sen's debut feature Beneath Clouds was always going to be success. A directing graduate from the Australian Film, Television & Radio School in Sydney, the writer/director had been praised over the last few years for his growing body of visually stunning short films.
His first, Tears, won Best Short at the 1998 St Kilda Film Festival and was also nominated for an AFI. He was invited to screen his second short, Journey, at the Clermont-Ferrand Short Film Festival in France.
His third, Wind was nominated for three AFIs in 1999, while the SBS-commissioned Dust screened during Reconciliation Week and won a Dendy Short Film award at last year's Sydney Film Festival.
Beneath Clouds went on to win the Premiere First Movie Award at this year's prestigious Berlin Film Festival, while co-lead Dannielle Hall was presented with the Piper Heidsieck New Talent Award for Best Young Actress.
Deadly Vibe Issue78 August 2003
Director film, Ivan Sen had a huge year last year when his debut feature Beneath Clouds, hit the big screen.
He won an AFI Best Director gong for the drama about two teenagers who hitchhike to Sydney. It was also selected to screen at the prestigious Berlin International Film Festival.
Yet the strange thing is that Ivan no longer likes the film that brought him so much recognition.
" Beneath Clouds was a failure for me – I just don't like it," the 31-year-old says. "I was pretty happy when I made it but as the months went by, I just suppose I changed a lot as a person and as a film-maker. I wouldn't sit through it now " it's just crap."
Ivan is being hard on himself. The Sydney Morning Herald's film writer, Garry Maddox, wrote at the time of its release that Beneath Clouds was "full of beautifully observed moments".
However, Ivan is in a hurry to get another film out so that people know "what he's about" these days.
He's planning a murder-mystery set in a cotton field that he hopes will be in production by the end of this year.
He's also been writing a script for the past couple of years that he describes as a UFO thriller set in Nevada in the United States.
Asked if he believes there's life on other planets, Ivan says: "It'd be stupid not to – as if we're the only thing in existence that's breathing!
" But it's more about people searching for the thing that makes them feel complete. It plays within the realms of The X-Files, but it's about the characters."
The quietly spoken writer, director and composer (his ambient soundscapes are used in his movies) has spent most of this year holed up in a glass-walled studio on a cliff on the NSW Central Coast.
" This year is my writing year – it's a quiet year but it'll be a constructive year."
(Story 1/8/2003 end)