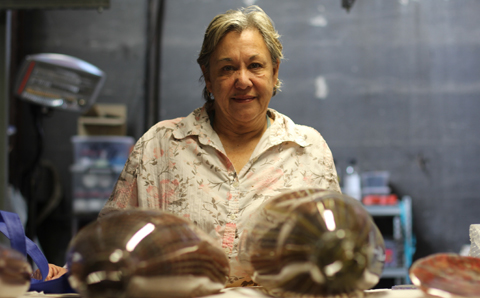 Adelaide born artist Jennifer Kemarre Martiniello, is the proud recipient of a fellowship through the 6th National Indigenous Arts Awards. With an impressive profile as a poet, writer, visual artist, academic, teacher and community leader, Jenni is now achieving success through her art, working with the glass medium.
"In 2008 the ACT Indigenous Textile Artists Group were watching the ACT Government converting the old Kingston Power House into the Canberra Glassworks and we thought, 'We wouldn't mind having a bash at that',"Jenni says. "We saw how the glass complemented our arts' practice, so we got funding from Arts ACT for four of us to do a beginner's workshop and two of us got hooked, well and truly." Receiving the $45,000 fellowship has opened up many doors of opportunity Jenni. "It means an enormous amount; it really consolidates my status as a contemporary glass artist, not only in Australia but overseas as well. I'll be looking at extending my profile and taking my works overseas to exhibitions," she says. "Just to be able to be an independent artist and be able to fund my continuing art practices through sales would be lovely." Jenni's art is inspired by traditional weaving techniques practiced by the oldest living culture on earth. "My intention is two-fold. I want to focus our contemporary audience back to our traditional practices because they're the oldest living, weaving practices in the world. Just to make sure that people understand that these works in glass couldn't exist without that heritage behind it, and that the heritage is still alive and well and flourishing," she says. "The other side of that is taking a contemporary medium like glass and appropriating it to become a vehicle in itself for an ongoing cultural expression of something that comes from an ancient source."
One of a very small amount of artists practicing this medium in Australia, Jenni has her sights set on the United States in 2014, to further develop her skillset. She is also going to visit some American glass artists who use the medium to express traditional values. "I'll be going to Pilchuck Glass School in Seattle for some skill development; and also to Corning Museum of Glass in New York for some more skill development with international artists," Jenni says. "There's a group of American glass artists in New Mexico that I want to visit who use their traditional, ceremonial, dance, masks and objects as the inspiration for their work."
Also a bit of a philanthropist, Jenni has worked with Aboriginal youth to develop an understanding of who they are, where they came from and where they're going. "We have our Indigenous writers group in Canberra. One of the things writers group has done is work with communities in lots of different ways. Working with youth at risk was a particular project that we did a while back. We worked with young kids to teach them to understand their cultural heritage and help them explore that, build pride in identity and vision for the future," she says. "We used a range of art practices to do that and we had lots of people coming in from the community like musicians, story-tellers, weavers and sculptors to work with them. We also took them on camps out in the bush to be much closer to their traditional environment."
Jenni is of Aboriginal, Chinese and Anglo-Celtic descent and feels she was always destined for a career in the arts industry. "It was something I did everyday as a kid, so it was natural that it progressed into something I do every day as an adult," Jenni says.