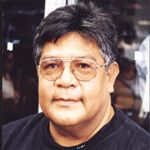 Talk to anyone involved in Indigenous surfing around Australia and one thing is for sure – they all know who Kevin Slabb is.
Kevin started surfing over 40 years ago in his home town of Fingal, New South Wales, and hasn't stopped yet.
"I've never ridden a surfboard, only the long board," he says. "That's all that was around in my day. My family and I grew up at the beach – we're real saltwater people. We'd go down to the water in the morning and spend all day catching worms to feed to the pippies, which we'd eat all day long! All us kids were crazy for the beach. Surfing was a natural progression for me and all my family."
Kevin's love of surfing is matched only by his sons' prowess in the water.
"My boys just took to surfing, I didn't even have to push them into it! I'm really proud of how well they've done. Josh was number 10 on the circuit for a while and is still in the top 20 . You have to remember where we live – from our front door we've got the choice of the ocean or the creek. Either way you end up a water person."
Kevin is happy to see that there are now opportunities for Indigenous surfers to catch the right wave and showcase their talent right around the world.
"When I was young there weren't any competitions for blackfullas," reflects Kevin. "There were barely any Indigenous people surfing full-stop. We didn't join surf clubs or stuff like that and to be a professional surfer or compete you needed financial backing. This was in the days before sports grants or funding of any sort."
The "we" includes Barry Paulson and John Fonmosa, both avid surfers who were two of the first Aboriginal people to join a board riding association. Meanwhile, legendary non-Aboriginal surfers Wayne Lynch and Eric Murphy banded together in 1993 to start an Indigenous surfing competition in Wreck Bay.
"That first competition was amazing," says Kevin. "It really made everyone realise how much talent was out there. All the kids did really well and Gavin Dickinson won the top prize. The momentum kept growing and in 1995 we were invited to Hawaii to surf and dance – it was like a big cultural exchange."
While in Hawaii, Kevin was inspired to start an annual surfing competition for Aboriginal people in Australia as a way of nurturing local talent. After much preparation and word of mouth, the first competition got underway at Fingal in 1996 with some 90 surfers in attendance.
And as the saying goes, the rest is history. Taking Fingal's lead, other communities have decided to start their own surf comps. Kevin's sons have even gone one step further and started their own surf school.
"I'm like the silent partner," laughs Kevin. "I was saying to them that it's like when a footy player retires. What do they do? They go on to become coaches or trainers. So I said to the boys: 'Why don't you guys use your talents and start up a surf school?' That way they not only get to use their skills, they also encourage others to get into it."