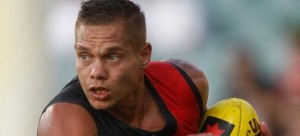 You need only look to the remarkable success Chris Yarran enjoyed in 2011 after being moved from a forward role to the backline to see that there is well and truly life after a major positional shift in AFL – particularly when you're talking about players with exceptional talents, like for example, 23 year-old Leroy Jetta.
Now in his third year at Essendon, Leroy is preparing to emulate Yarran's feats in 2011 after being told by his coach during the pre-season he could well be set for an extended stay in the defence this season – despite having only played there once or twice before while in the VFL.
Having enjoyed a strong 2011 season in which he played every game of the season as a half-forward and midfielder, kicking 27 goals, he has welcomed the potential move and has made sure to brush up on exactly how he can adapt his natural flair and creativity to the new position. To do so, he's been busy studying the games of Leon Davis and the aforementioned Chris Yarran to see just how they turned themselves into such damaging half-backs.
"When the coaches first told me that I might be playing at half-back I definitely got on YouTube and watched a few of the boys' highlights, and I also watched a bit of Andrew McLeod," Jetta told essendonfc.com.au. "He's someone I idolised growing up."
"I went to school with Chris Yarran back in Perth so I know him and if I do get into a bit of trouble I can give him a call and hopefully get some tips off him, if he gives them to me."
Leroy has worked hard over the summer to improve his game in all areas and he's all set to start the 2012 season strongly, with added pace and even more explosiveness, qualities that were on show in the first round of the NAB Cup where Leroy was the Bombers' best player working in the back half.
"I really enjoyed playing there in the NAB Cup and hopefully I get to play there again soon," he says. "I think if I can't get a kick up forward then they can try me out in the backline, and I can play a bit like Courtenay Dempsey and try to run off and use my skills."
The extra versatility can only bode well for Leroy's career, and is an added bonus considering he came close to quitting football altogether after a frustrating 2010 was wrecked by injury.
"It's definitely taken me a few years," he says. "My first couple of years I struggled with the demands of training week-in, week-out, but now I feel really comfortable with the training and it's going pretty well.
"It was hard for me in 2010 because I only played a handful of games and I was thinking about quitting, but then 'Hirdy' (coach James Hird) came along and sat down with me a few times and said 'we really want you to stay, you're a big part of the team'. "
While his current contract expires this year, Leroy is keen to remain a Bomber.
"I'd definitely like to stay at Essendon," he said. "I've been here six years and I'd love to play the rest of my career here. Hopefully I can have a good year and sign up again at the end of the year."