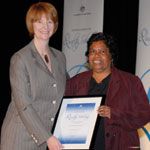 Teachers are so important, and they deserve our recognition and our thanks for all their hard work. Last month, some very special teachers were presented with National Awards for Quality Schooling by the Deputy Prime Minister and Minister for Education, the Hon Julia Gillard MP.
These annual awards recognise and reward teachers, principals, and support staff who are making an exceptional contribution to their school community and their students' outcomes.
The awards are also a great way to share good ideas and successful practices around the Australian school community.
"Great teachers change lives. Today's celebration is also a celebration of the quality of teaching practiced every day in classrooms across Australia," says Gregor Ramsey AM, Chair of Teaching Australia – the Australian Institute for Teaching and School Leadership which supports and advances the effectiveness and standing of the teaching profession.
"We need to continue to celebrate the work teachers do. They are essential to making Australia the well-educated, compassionate, energetic, productive nation we want it to be."
Among the many deserving winners were an Indigenous support staff member and two Aboriginal schools.
Best National Achievement – Excellence by a Support Staff Member
David Simpson, Bonya School, Northern Territory
As an assistant teacher, David Simpson makes a really important contribution to the happy and active learning environment of Bonya School, situated in a remote Indigenous community 400km north-east of Alice Springs. There are 16 children in the school ranging from 4 to 13 years old. The school has three staff, a teaching principal, a preschool teacher and David.
As the assistant teacher David's work covers a lot of areas. His main job is to teach the early childhood group. The teacher and David plan together, and then he teaches the class independently, covering literacy and numeracy subjects.
But David's commitment and enthusiasm go much further than that. He also picks up and drops off students in the morning and afternoon, does cleaning and maintenance around the school and uses his creativity to make teaching resources. He brings students fruit each day at recess and promotes physical education. He also notices if anyone isn't at school and goes to their home to get them out of bed!
David is an excellent role model for kids at Bonya School, helping them to develop a sense of self-worth and pride. His role is vital to connecting school, home and community, involving families in their kids' education.
Best National Achievement – Excellence in Family-School Partnerships
Kuranda District State College – Queensland
Kuranda District State College's Families as First Teachers program has had a really strong impact on getting local Indigenous families involved in their kids' early learning and preparation for school.
Student enrolments in preschool and primary school have increased, Year 2 students have achieved record literacy and numeracy results, and there are heaps more parents participating in school activities. There are also fewer behaviour problems, and much better relations between the school and the community.
Best National Achievement – Excellence in School Improvement
Owairtilla School, Canteen Creek – Northern Territory
Owairtilla School at Canteen Creek, which is 260km by road south-east of Tennant Creek, won the Excellence in School Improvement award thanks to dramatic improvements in its enrolment, attendance and literacy and numeracy results over the past three years.
By forging strong links with the community, the school has changed the focus from student behaviour and attendance to student achievement and success.
These results are partly due to the commitment of the school's teaching principal, Ben Hollands, and his wife Susannah, who came to the school three and a half years ago. Along with the school's four other teachers, four assistant teachers and two part-time tutors, the Hollands have helped to double the number of enrolments, ranging from pre-school to Year 12.