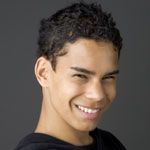 Cemented in its fourth year, the annual Yvonne Cohen Award for Creative Indigenous Australian Youth, is a national award offering $5000 to aid in the creative future potential of a talented young Indigenous Australian artist 30 years of age or younger.
This award empowers Indigenous Australian youth in pursuit of their creative endeavours and is auspiced by the Wilin Centre for Indigenous Arts & Cultural Development, Faculty of the Victorian College of the Arts, The University of Melbourne. The late Yvonne Cohen was a successful non-Indigenous artist who bequest a significant amount of money toward the establishment and fostering of the award over the next twenty-five years. Ms Cohen lived a large part of her life on Timara Island, North Queensland.
Each year the trustee of the Yvonne Cohen Award, Aunty Joy Murphy-Wandin, bestows this significant financial encouragement to one individual, enabling them to continue and enhance their artistic work. Former winners are singer/songwriter Kerrianne Cox of Beagle Bay, visual artist Lisa Michl of Cairns and Mark Coles-Smith of Broome.
SELECTION CRITERIA
A growth of artistic and/or creative ability
Artistic and/or community leadership
Evidence of positive achievements in the Arts
WHO MAY NOMINATE
Nominations will be accepted from organisations and individuals. This award is open to Indigenous Australian people 30 years or under. Applicants must be nominated by an organisation or individual, and cannot nominate themselves.
WHAT YOU SHOULD SUBMIT
Nominations should comprise:
A CV of the nominee including date of birth and contact details
A letter from the nominator addressing one or more of the above selection criteria
Two letters of support/recommendation (in addition to the nomination letter) from colleagues, peers and/or community members.
One type of supporting material – eg: photographs, slides, VHS cassette, CD, audiocassette, CD Rom, DVD.
NOMINATIONS CLOSE FRIDAY 8TH AUGUST 2008
Please note: the winner will be required to partake in some media opportunities.
For further inquiries please contact Michelle Evans, Head of the Wilin Centre on:
03 9685 9345 or [email protected]
Nominations should be sent to:
Yvonne Cohen Award
C/- The Wilin Centre
Faculty of the Victorian College of the Arts
The University of Melbourne
234 St Kilda Rd, Southbank 2006