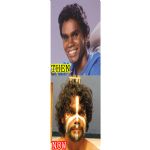 Deadly Vibe Issue 97 March 2005
A Class Act
He's been on television, in film and on the stage " we catch up with deadly young actor Heath Bergersen.
Back in 1999, a young Heath Bergersen graced the front cover of April's Deadly Vibe. At the time he was appearing in the Channel Ten soap opera Breakers, playing the character of Rueben Neeson. Now that he's all grown up, Heath's horizons have broadened considerably.
"After Breakers I go a little bit of work here and there, but it was a bit dead for a while," Heath admits. "But after a few years it picked up, and I've been working steadily pretty much ever since."
Much of this work has been in theatre. Heath, now 29, is currently touring around the Kimberly and southern Perth with the Barking Gecko Theatre Company's production of Crabbing at High Tide. Prior to this he appeared in the Black Swan Theatre Company's production of Yandy.
"It was all about the first Aboriginal workers' strike at Pilbara," Heath explains. "It was a very significant event " some people call it the Blackfella Eureka."
Last year saw Heath heading to London to perform in Bullie's House, written by Booker Prize winner Thomas Keneally. Heath had the lead role of Bullie in this production " a powerful story about tribal Aborigines who reveal their precious ranga (totems which hold the secrets of the world), to white men in the belief that the white world would teach them its wisdom and technology in return. AFI award winning actor Natasha Wanganeen was also in the cast.
"Some people over there didn't quite know how to take it," Heath says of the play. "But being in England really made me realise how much I take for granted all the great things we have here at home."
Heath has also had some success in the film industry, appearing in the acclaimed Rabbit Proof Fence and in Japanese Story, starring Toni Collette.
"In Japanese Story I played this garage attendant," he says. "I had a few scenes with Toni Collette, but we didn't really get to talk much.
"In Rabbit Proof Fence I got to play a bad guy who tricks one of the girls into getting caught, which makes for a nice change in pace. And it was my first major movie role."
The two eldest girls in the film are actually Heath's cousins, and they all attended the premiere of the film together.
"It was amazing to watch the finished product," Heath says. "And when my scenes came on you could tell that it really affected people."
But although he has made some impressive headway into both theatre and film, Heath's favourite medium is television.
"I prefer TV because it's not as hard as theatre or film," he explains. "Doing Breakers was so much fun " if I could do it again tomorrow I would."
This month Heath appears in a new television series on Channel Nine called Streetsmartz. The 13 part series was filmed in Fremantle, and is aimed at young audiences.
Despite all his success over the past few years, Heath is still unsure where exactly he wants his future to take him.
"I wouldn't mind getting into something apart from acting," he admits. "I've gotten away with this acting thing for so long; maybe it's time to give some other Aboriginal guy a go!
"Acting as a career sort of fell into my lap. When I was a kid I wanted to play the didj in a band, or fly aeroplanes."
Let's all hope he doesn't throw it all in to become a didgeridoo-playing pilot any time soon.
(story 1/3/2005 end)