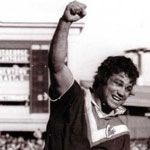 Indigenous league legend Arthur Beetson has revealed that he will boycott tonight's unveiling of rugby league's team of the century in protest of the direction the game is heading.
Set to commemorate the leagues 100th year, the centenary gala will draw together some of the sports biggest names at a black-tie event in Sydney tonight.
A long time critic of the NRL's commitment to rugby league in the bush, Beetson will be one of the biggest names missing from the event.
"I'm just disappointed with what's happened in our game. They (organisers) know I'm not going." Beetson told Fairfax reporters.
"We're celebrating a hundred years. I've got to be honest, we've got some heroes in our game but they're certainly not administrators."
"They could be pouring money into the game elsewhere. There are so many problems within our game."
Regarded as one leagues greatest ever players and one of the sports hallowed 'immortals' – Beetson will almost certainly be one of those named in the team of the century tonight.
"It'd be nice to be acknowledged but I care more about the direction of the game, especially in the rural areas," said Beetson.