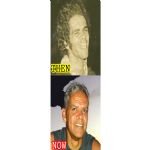 Deadly Vibe Issue 97 March 2005
In a Class of His Own
Soccer star Harry Williams is well and truly one of a kind.
Across the major footballing codes in Australia, there have been many successful Indigenous stars who have achieved at the highest level. But when it comes to soccer, Harry Williams remains the only Aboriginal man to have cracked it at the senior national level.
"I moved to Peakhurst in Sydney with my family when I was around six," says Harry. "One of the young boys who lived next door asked me to come along to his soccer training one evening, and from there I was hooked."
Harry went onto play junior soccer with the St George Police Boys in Sydney, later moving through the ranks of St George Budapest before becoming the first Indigenous person to ever be selected to play with the Socceroos.
In 1970, Harry embarked on a world tour with the national side and, four years later, they played in the World Cup. No other Australian team has made it so far since.
In an illustrious career that spanned more than 20 years, Harry's greatest moment was, not surprisingly, making it to the World Cup. The fact that players today receive far greater support and recognition than Harry and his teammates did thirty years ago makes this achievement even more incredible.
"We were the pioneers " the first Australian team to go overseas and play on the world stage," says Harry. "Looking back on it sometimes I just think, wow. For a bunch of part-timers to achieve what we did in the international arena was quite amazing. It's something that you dream about, but then all of a sudden it happened.
"The World Cup is an amazing event. Words really can't describe the experience and the feeling of being a part if it. When we played West Germany, we were matching up against superstars we had watched for years on television back home. We were playing against our idols! It's something that will stay with us for the rest of our lives."
At the time, quite a lot was written around Harry being the only Aboriginal person to play in a World Cup. However, during his playing career Harry never gave much thought to it.
"At the time it was just me, the footballer, that's all I thought about," he admits. "I was just another player out on the field.
"Now I do see myself as a role model, but not only as an Indigenous role model for what I achieved as an Aboriginal person, but also as a role model for all kids."
Presently there is only one Indigenous player with the potential to follow in Harry's footsteps and cement a position in the senior squad " 23 year old Jade North. But Harry is hopeful that soon we'll see more Indigenous talent making its way into the top soccer leagues of the world.
"I do have a tinge of disappointment that there hasn't been more Aboriginal players make it though to the national level," he says. "In my twilight years I've seen so many Aboriginal kids with such tremendous talent, more talent than I ever had.
"Johnny Warren always used to say to me that the Aboriginal talent out there was an untapped resource, and that we should be doing something about it."
Today, Harry lives with his family in Canberra and is the manager of the Indigenous Services and Cultural Diversity Unit for ACT Correctional Services. He still maintains a keen interest in soccer and has also been involved in coaching, focussing on teaching special skills to young players between the ages of seven and 14.
"Moving into retirement was a tough adjustment," Harry admits. "Soccer was in my blood.
"It wasn't about the trophies or awards " I really enjoyed the personal satisfaction that came with playing. But coaching the young players is a lot of fun and something I really enjoy."
As the Socceroos prepare for the qualifying matches of the 2006 World Cup, only time will tell if they can repeat the achievement of their 1974 counterparts. Either way, it seems it will be only a matter of time before the next Aboriginal soccer star takes the world by storm.
(story 1/3/2005 end)