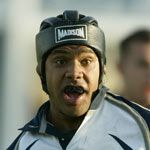 After last year's agonising false start thanks to a busted knee, Ty Williams' first season in NRL showed him to be a Cowboy with courage and speed.
Making his debut in round four, Ty scored his first try the following week against Souths. It was a taste of things to come for the agile centre.
Improving with every match, Ty was rarely out of the spotlight as he clocked up 13 tries from 21 games. Under the watchful eye of North Queensland Cowboys' new coach Graham Murray, he scored three tries against the Eagles in round 20, another three against the beleaguered Rabbitohs in round 25, and a further two against the Eels the following week.
"It was a dream come true to make first grade and to stay there for the rest of the season," says Ty. "It took me a while to build my confidence up because I'd had a year off. Adjusting to all the travelling also took it out of me, but I got used to that in the end."
According to his coach, Ty's first year in NRL was "sensational".
"For a young fulla he showed a lot of maturity. It's not often you twice manage to score three tries in your debut season. I think there's a special talent there," says Graham.
"Ty is fixed to everything you say " he's very coachable. He's a good fulla to have around the club and I think he could turn into a long-term Cowboy, a real leader," he says.
Hailing from the sugar town of Innisail, "˜Taibow' is currently based in the Cowboys' home base of Townsville.
"I moved here as soon as I got my Cowboys contract in late 2000," he says.
Disaster struck shortly after when, in his first trial game, he sustained a severe knee injury that saw him undergo a full reconstruction. On crutches for five weeks, Ty couldn't run for five months and was forced to watch games from the sidelines and work on his golf handicap (currently 10).
All that must seem like a bad dream for the 22 year old who now has a string of match successes to his name.
"Hopefully I can start off in the top squad next year and just play consistently. If I do that, I might even get a look-in for State of Origin," he grins.
Coach Murray agrees.
"I see no reason why he can't kick on and become the number one winger in the competition. He could even get a knock on the door for rep duties."
In the meantime, Ty has a few days off around Christmas to look forward to.
"Mum and Dad usually put on a good Christmas lunch for me and my sister, then we all go down the beach on Boxing Day, play some cricket or touch footy. I might even get in a bit of fishing with my father."
A spot of surfing, perhaps?
"Mate, I tried it once and got absolutely nailed! I like the beach but I stay away from those boards."
Deadly Vibe Issue 80, 2003
: In only his second season in the NRL, speedy North Queensland winger Ty Williams reaffirmed himself as one of the best finishers in the competition. His stand-out performance against the Tigers in Round 25 showcased his thrilling attacking capabilities and helped the Cowboys to a club record of 10 season victories.
The 2002 club rookie of the year had been in doubt for the Tigers match with a knee injury, but by game's end he had moved closer to matching the exceptional try tally of his debut season, tormenting the Tigers with a hat-trick of four-pointers.
Ty finished the season one try shy of his 2002 tally with 12 tries and, at 22, he has the league world at his feet. Flanked by other phenomenal Indigenous players such as Matt Sing and Matt Bowen, Ty is set to play an integral role in what is shaping to be an exciting new era for the Cowboys.