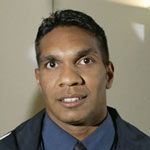 Deadly Vibe Issue 94 December 2004
Just a country boy
AFL star David Wirrpunda might live on the West Coast but his heart lies in country Victoria.
While David Wirrpunda may be a nine-season veteran for the West Coast Eagles and one of the most celebrated and recognised Indigenous footballers in the country, for the Perth resident it all began in the Victorian country town of Shepparton.
"My father comes from Arnhem Land and my mother comes from Shepparton in country Victoria," says David, 25. "So I spent a lot of time between those two places, mostly in Shepparton."
Just two hours' drive north of Melbourne, Shepparton is the home of a large and sports-proud Indigenous community.
"Shepparton is a big country town," says David. "I haven't been back for about 10 years now, and my mother and a lot of my relatives have since moved to Melbourne but I still have plenty of fond memories of living in Shepparton.
"I spent most of my time in Shepparton just hanging out with my cousins, going down to the Shepparton lake and playing basketball and football. There wasn't really that much to do but having so much family there made it a good place to live."
David left Shepparton at 11, after his aunty founded the Worowa Aboriginal College in Healesville near Melbourne – David and some of his cousins went to school at Worowa. David developed his passion for AFL around the same time; he later moved to Melbourne with his mother.
"Some of my fondest memories would be of walking from the north end of town to the south end," he says. "There's a large SPC factory in the area because Shepparton is in orchard country, so during the fruit-picking season we would get a lot of tourists coming through."
(story 1/12/2004 end)
2001 has been David Wirrpunda's biggest season to date. Not only has he signed a new contract with the West Coast Eagles, taking him up until the 2005 season, he's also been awarded co vice-captaincy alongside Glen Jakovich and Peter Matera.
David has sure come a long way since his debut as a 16 year old back in 1996. At 21 he is now regarded as one of the finest rebounding back-pocket players in the game. With his supreme skills, athletic ability and versatility, Eagle-eyed Wirrpunda can play at any position on the paddock.
David spent most of his childhood years in Barmah, an Aboriginal mission just outside of Echuca in Victoria where his mother, Margaret, comes from. He recalls many fond memories of his time there. "I used to get together with all my cousins and we would run amok," he reminisces. "We'd go fishing, swimming and play some footy, of course!"
David's mother is president of the Woraua Aboriginal College in Healesville, where David attended school and began his playing days.
"I first started playing when I was 10 years old with the Healesville Football Club, and haven't looked back since," he says.
David skills were seen as so flamboyant that in 1995 he was recruited to play with the Eastern Rangers in the TAC Cup, Australia's most elite under-18 competition, and was duly named in the TAC Cup Team of the Year. The following year he was recruited to the Eagles as a 16 year old, and has been there ever since.
Despite approaches from several other clubs to return to the east coast, David reckons he's happy where he is. "I love playing with the Eagles. They're such a great club, I'd happily play my career out with them."