The first Aboriginal lawyer and magistrate, and the first female Aboriginal barrister, Pat O'shane was honoured at the 2013 deadlys, winning the Marcia Langton Deadly Award for Leadership.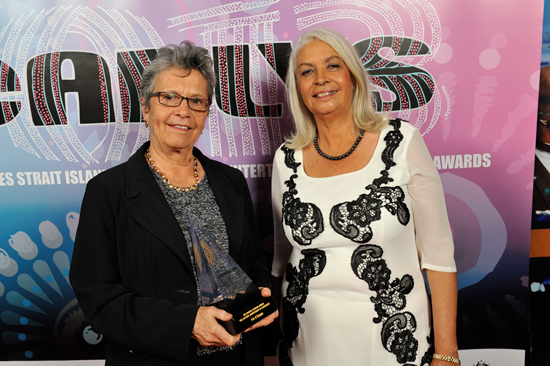 The Deadlys were held at the Sydney Opera House on 10 September, and in front of a capacity crowd, Pat accepted the award and paid tribute to those who had blazed a trail for her to follow.
"I've heard it said by practically all here tonight that we do stand on the shoulders of those that went before us," she says.
The Deadlys audience heard that the proud Kunjandji woman had devoted herself without fear or favour to championing the rights of her people; and justice for her people.
"This is an Aboriginal woman who blazed a path for others to follow. Because many of her achievements have been firsts for her people, she is a genuine and inspiring role model for others," the audience was told. "She was the first Aboriginal female teacher in Queensland, the first Aboriginal person in the country to graduate in law, the first Aboriginal Barrister, the first Aboriginal magistrate for the NSW Local Court, and the first woman to head a government department."
Pat was born in 1941 in the small rural community of Mossman, North Queensland. Her mother moved the family from that small town to near Cairns to give her children a good education. She was a high achiever and ended up the only Aboriginal child in her age group who graduated from her high school.
Pat's many other outstanding achievements were always partnered by sheer hard work, but she also overcame personal obstacles, including the overwhelming grief of losing her beloved mother, to rise above her peers and become a barrister and later a magistrate.
For Pat, having the example of other Aboriginal and Torres Strait Islander leaders to follow helped her determination to succeed. "It's important to acknowledge those that have gone before, our Elders past and present," she told the Deadlys audience. "It really gives me enormous pleasure to see so many Elders here tonight [at the Deadlys], and it's important to remember the traditional owners who are here, sometimes from other parts of the country and, of course, the custodians from all over our country. "It is with enormous pride that we can look back on our ancestry and see the fantastic achievements of all, including our young people and previous recipients of this award. I want you all to remember that we are as good as anybody else. We can achieve what anyone else can achieve. "We can challenge the injustices that still abide in the world and we can overcome them if we remember that we are of our communities; therein lays our strength."
She encouraged young Aboriginal and Torres Strait Islanders to look after their 'good health', and participate in cultural and health programs.
Pride in culture was particularly important, and this was something she said her family had instilled in her. "I was lucky that I had a family who always encouraged me to remember that I come from thousands of years of Indigenous Australians and with that behind me, I was going to make the world a better place. And I do hope that is what I've done," she says.
She thanked Marcia Langton who presented her with the Deadly, saying she was proud to be honoured by the award. Pat has now retired from the magistrate's bench.