After over 18 years in the business, Native Ryme's debut album may be one of the most overdue albums in local hip hop history. Des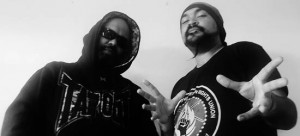 pite a touring history estimated at over 800 live performances, a gold/platinum hit and Multiple National Music awards – Native Ryme have never released a full album.
So, The Debut Recordings Volume 1 is certainly one of the most eagerly anticipated albums of recent times, considering that these guys were one of the pioneers of the genre in this country. The album will be launched in most capital cities in October and Deadly Vibe recently caught up with C-Roc from the group.
C-Roc says when Native Ryme started out way back in 1994 there  was no template for what a hip hop band in Australia should be like.
"When we started there wasn't even a real hip hop scene. It was all back alley stuff. We would play with bands like The Resin Dogs and Regurgitator, but there was no blueprint for it," C-Roc says.
"We were introduced to US hip hop culture back in the '80s and Aboriginal Australia identified easily and naturally with hip hop culture. We were attracted to it because we have an oral tradition of storytelling. It was always going to happen here."
The group won a Deadly Award in 1998, becoming the first rap group to do so.
"We were the first rap group to be acknowledged nationally like that. Triple J was raving about us. It was like hip hop had finally come of age here.
"By 1998 we were in full swing. We were managing ourselves and learning how the industry worked. We had a lot of respect from other artists. We had studied bands like the Warumpi Band, Midnight Oil, Slim Dusty, which may seem like a bit of a strange mix – but these were artists that put their music out there – no matter what the genre was."
He says after 1998, the band seemed to be playing an endless series of gigs, working with some major names along the way such as Naughty By Nature, the Cruel Sea and Regurgitator.
"Journalists never got the name at the start," says C-Roc."They wondered, 'what syndicate?' But Native Ryme Syndicate is that barefoot kid in Kalgoorlie walking through the paddocks to school and not knowing where he is going to get his lunch today. It is the kid on the block in Redfern who can't go to school without being harassed because he has been stigmatised by coming from 'The Block'. It is that kid who is sitting on the beach on Thursday Island dreaming those big dreams.
"We never lost our core values. When
you come across someone with good
will it is refreshing. We formed on the basic principles of human interaction.
We were young black men in a new world. We embraced what it truly means to be Indigenous in that world. We are just who we are. I came from a cattle station and I was told: 'this is how far you will go and you better accept it,' and I said 'no'."
In 2000, the band began to be managed by Martin Lee – the original drummer from Regurgitator.
"We were asked to be on a compilation album by Mushroom/Festival – this was the Corroboration Album in 2001 – it had people like Kylie Minogue and Silverchair on it. We paired up with The Cruel Sea and Kev Carmody to do the track 'Together'. We got credibility out of that because that was the biggest selling track off that album," he says.
They then did a national tour with The Cruel Sea.
"They were the best crowds we ever played to. It was a well-oiled tour and we were keen to learn. You need to always keep your mind open. Triple J were chasing us constantly to be on Live at the Wireless – we were the number one rap group in the country," he says.
In 2004 they toured nationally with US Hip Hop heavyweights Naughty By Nature. Native Ryme was offered recording deals in the USA, but the pressures of success began to take its toll on the band. The group stopped touring and basically went back to remote communities to do workshops with young people for the next eight years.
"We saw the horrible side of the industry too. We found ourselves at parties doing the wrong thing. We wondered how did we get here? We were disillusioned by that fast life. We were going off the rails. We found ourselves fighting in hotel rooms. It was insanity and I was not happy. The powers that be were saying give it a break – so we left it all and walked out the door," he says.
"We had lost our way. We were blinded by money and a life that you had to sell your soul to. We travelled to every single remote community in the country for the next eight years.
"People say how can you not do a show for eight years and come back and everyone still loves you. I say we based our shows on revolution. If you build your shows on honesty, people will never leave you. It was an ideology."
In 2006 alone, they did 174 youth workshops for free.
"It almost killed me. I didn't go home for 10 months," he says.
"I saw these kids in the Kimberley with bright eyes full of possibility. It didn't matter that they were in one of the most remote places on Earth, I knew their dreams could take them where they wanted to be. This took us back to who we were – looking into the eyes of children who were us. It was always there, but it had been taken away. We weren't strong in spirit."
"My advice to young artists is you need to believe in something and yourself, and by doing that you will find yourself in those positions. It is not luck. You will never know unless you go. You also need to put yourself in the right vehicle.
"Also – when you are around wiser older people zip your mouth and open your ears – in Aboriginal culture this is what you do. So for people working with young Aboriginal people – the most important thing you can do is provide the spark so that they can light their own fire."
The album, The Debut Recordings Volume 1 will be launched in October in most capital cities.