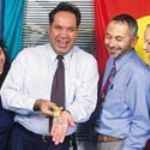 Story: Peter Buckskin
A leading advocate of Indigenous education for 25 years, Peter Buckskin knows the value of a good teacher more than most.
When Peter Buckskin was a student in Western Australia, one of his teachers coolly suggested he stop wasting his parents' money at boarding school and go and start digging holes in the Pilbara instead.
The teacher's comment couldn't have been more misguided and Peter was wise to ignore it. Not only was he one of the first Aboriginal teachers to teach in the Kimberley, he went on to become the head of the Indigenous Education Policy Group within the Commonwealth Department of Education, Science & Training.
A Narungga fulla from the Yorke Peninsula in South Australia, Peter says he was inspired to become a teacher due to the poor quality of teaching he experienced at primary school.
"Very few teachers had any understanding of Indigenous cultures," says Peter. "Aboriginal people were always painted in the school textbooks as these evil natives who speared whitefullas trying to cross the Blue Mountains. You can imagine the looks I and my Aboriginal classmates received from the white kids as a result of that!"
By the time he was in Year 11 at Rossmoyne Senior High School in Perth, Peter realised that a teaching career was the perfect opportunity for him to help young people. "I wanted to work with my mob, help them get somewhere. At that stage I was achieving success, but a lot of my mates weren't."
Peter went on to study at Mt Lawley Teachers' College (now Edith Cowan University), from which he graduated in 1978. "They were great days, exciting days," he recalls. "People were really politically motivated. I worked as a campaign volunteer for Ernie Bridge, who was the first Aboriginal MP in Western Australia and later a Government Minister."
After graduating, Peter and his colleague Coral Fong became the first Aboriginal teachers in the Kimberley when they went to teach at Nulungu College in Broome. It was there that Peter met Steve Albert, chairman of the National Aboriginal Education Committee (NAEC), who invited him to attend an Aboriginal teachers' conference.
"That's when I realised there was much to do, particularly in terms of policy. I could help 30 kids in a classroom on a daily basis, or I could move into an area where I would be able to help thousands of them."
Peter joined South Australia's Aboriginal Education Consultative Group (AECG) that advised the State's education Minister, eventually becoming its chair for seven years. Later, he joined the NAEC and was appointed to UNESCO.
After stints with the South Australian Department of Aboriginal Affairs and ATSIC, Peter joined the Federal Department of Employment, Education, Training and Youth Affairs (as it was then known) in 1993. Spearheading the push for a national perspective on Indigenous education for nearly a decade, Peter was instrumental in persuading the Ministerial Council to agree on a framework for Indigenous education.
But he is most proud of the National Indigenous English Literacy and Numeracy Strategy and its highly popular Ambassador program, which was launched in 2000. And throughout his time in Canberra, he found that all successive Government Ministers, no matter what their political stripes, shared his commitment to Indigenous education.
"Politicians want to see results in three years," he reasons. "I was able to get each minister of the day, from Kim Beazley through to Brendan Nelson, onside and sharing my sense of urgency about approaches to Indigenous education."
Since its launch, Peter is proud to say that literacy rates for Indigenous young people have improved. "And we haven't promoted English literacy at the expense of Aboriginal languages, either. I'm not an assimilationist, but by the same token if you are not literate you can't really live in this world."
Peter is also adamant that approaches to Indigenous education must be holistic – that is, Indigenous components should be included in all subjects and disciplines rather than being relegated to a catch-all 'Aboriginal Studies 101'.
"Our Aboriginality isn't a subject, it's a lifestyle. It is inclusive of everything that we do. We need to reflect the richness and diversity of our cultures throughout the curriculum."
In honour of his many services to education, Peter was presented with the Commonwealth Public Service Medal as part of last year's Australia Day Honours List. He has now returned to his home in South Australia to be with his family and support local initiatives there.
From everyone at Deadly Vibe, we wish you all the best, Uncle Pete!