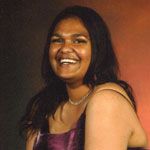 Story: Honour Roll
Students who excelled in Vocational Education and Training (VET) during 2005 have been recognised at the inaugural Australian Vocational Student Awards.
The awards have been introduced to highlight the value and importance of VET, and to reward outstanding senior secondary students who have undertaken a VET in Schools program or a School-based New Apprenticeship. Students are nominated by their school principal, and nominated students are then assessed by the Department of Education, Science and Training (DEST) and a panel of State-based experts.
Among the winners for 2005 were 18 Indigenous students, including Geraldine Dixon, a prefect and School-based New Apprenticeships student from Marrara Christian School in Darwin. Geraldine, who comes from a non-English speaking background, completed a Certificate II in Business (Business in the Community). Her project was to assess business enterprises in her community and draw up a realistic proposal for a family business, and was recently awarded Northern Territory School-based New Apprentice of the Year. She has also represented the Northern Territory in soccer and football and performed well academically.
Another award recipient, Gjai Hoolihan is a VET in schools student at Narrabundah College in the ACT. Gjai completed a Certificate II in Business and a Certificate II in Library Information Management and also attained competencies at the Certificate III level in these fields. Gjai aims to become a qualified librarian, and this year will be working at the Australian National University Library and the Defence Force Academy Library. She was also a 2005 finalist for Aboriginal and Torres Strait Islander student of the year at the Australian Training Awards.
The other award winners are:
Dennis Colbung, Tambellup, WA
Jeffery De Brougne, St Marys, NSW
Lharnni Douglas, Mingoola, NSW
Cassie Dover, Gold Coast, QLD;
Alicia Dunning, Dapto, NSW
Jenna-Lee Greaves, Parmelia , WA
Angela Hopkinson, Colyton, NSW
Emmah Money, Trott Park, SA
Kobey Nean, Quirindi, NSW
Stephanie Parkin, Hendra, QLD
Rhea Powell, Parkwood, WA
Dillon Rivers, Wembley Downs, WA
Chantelle Thompson, Wellington, NSW
Nadia Wade, Broome, WA
Amanda Webb, Whyalla Stuart, SA
Emmaline Winmar, Mount Barker, WA
To nominate a student for the 2006 Vocational Student Awards, head to www.dest.gov.au. Further enquiries can be made at [email protected] or on 1300 363 079.