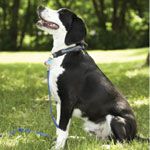 Man's best friend could help reduce violence in our communities.
The link between a dog and its human is a complex blend of companionship, mythology and interdependence. Understanding the role that the dog plays in the life of the community is the first step towards enhancing the lives of the dogs and inevitably, improving the lives of the people around them.
And now, a special conference has revealed that the traditional bonds Indigenous people share with their dogs could offer a key to providing Aboriginal and Torres Strait Islander people with a safer and healthier future.
Dog People, held in Darwin from July 16 to 21, brought together academics, veterinarians, community health workers and Indigenous representatives from across the globe to explore world's best practice for animal management in Indigenous communities.
The conference was organised by Animal Management in Rural and Remote Communities (AMRRIC).
Indigenous community delegates attending the conference shared their concerns about family violence and child and animal abuse with keynote speaker Professor Frank Ascione from the USA, who is considered to be the world's leading authority in the field of the links between animal abuse and community violence.
"Professor Ascione's research indicates that animal abuse and cruelty is often an indicator of serious crimes against people and alternatively, empathy and kindness to animals has a positive effect on the lives of people," says AMRRIC Executive Officer Philip Donohoe.
"In fact Professor Ascione has been quoted as saying that in social environments in which child maltreatment, domestic violence and other crimes are common, animal abuse is also likely to occur at a higher rate than normal."
Another keynote speaker, US veterinary pathologist Dr Henry Baker, an expert in fatal inherited diseases in children, dogs and cats, worked with delegates to help remote communities manage animal populations and develop positive strategies to improve the health of communities through the health of their companion animals.
"Human health, animal management and animal welfare is interrelated and no more so in rural and remote settings of Indigenous Australia, yet services can be difficult to access," Phillip says. " Aboriginal and Torres Straight Islander people love their dogs, which are part of a rich fabric in their lives.
"To exclude household and community animals from any health and wellbeing intervention strategy is to deny a rich cultural heritage law which in many instances is still operating powerfully today."