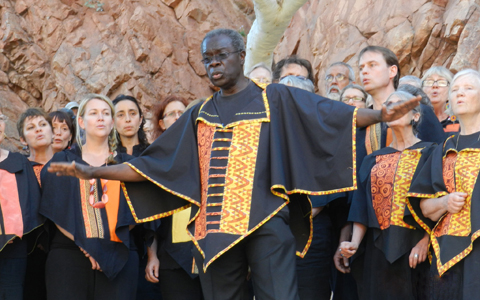 The Central Australian Singing group have announced a new festival to celebrate the voices of the central desert of Australia to be held in Alice Springs from today until September 22.
The choir combines the voices of Indigenous and non-Indigenous vocalists from around Australia and, beginning tonight, they will be kicking off their two week festival with the Young Desert Voices at Olive Pink from 6pm.
"The Desert Song Festival brings together singers from all around Australia," Festival Coordinator Liz Archer says.
"It's Aboriginal people, non-Aboriginal people, all sorts of people that come together because they like to sing."
Originally part of another larger festival, event organisers this year decided to extend out and do their own thing.
Some of the key events taking place over the next two weeks include 'A Cappella in the Gorge', an outdoor concert celebrating the natural acoustics of Ormiston Gorge, 'Desert Voice' at Araluen which showcases Alice-based community, school and remote community choirs.
Some performers will be travelling from up to 900km away to attend the event, including the Areyonga, Mutitjulu and Docker River choirs.
A 'Civic Concert' has been commissioned by the Mayor of Alice Springs for the Alice Springs community and a sister festival event at Hermannsburg will be staged by the Ntaria Choir and community.
"Central Australia deserves its own singers' festival. There is a rich history of choral traditions here: Ntaria Ladies' choir, the Alice Springs Choral Society, the plethora of smaller ensembles and vocalists, to mention a few," Artistic Director Morris Stuart says.
"This is a treasure in the Central Desert. The 'Centre' also preserves a rich archive of ancient choral music."
The festival received a total of $42,500 in funding from the Australia Council and Arts NT, along with support from several local businesses and private donors.
"Financial support such as this remains highly competitive and it is a strong statement of support from major arts funders for community driven festivals," Liz says.
Most festival events will be free, with a few costing a gold coin donation. Desert Voice at Araluen will require attendees to purchase tickets by calling 08 8951 1120.