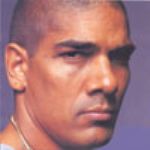 Graduating with distinction from the school of hard knocks, champion boxer Glen Kelly is putting his fight against Roy Jones Jnr behind him and concentrating on the next bout. He goes head to head with Deadly Vibe.
Pullquote: "A lot of people thought I wouldn't get up off the canvas, but I have a lot of guts."
When you stop to look at Aboriginal Australia's sporting history, three dominant images spring to mind. The first involves men jumping high to get the ball through the white poles. The second involves bigger types tackling hard in pursuit of something called a 'try'.
By contrast, the third image does not depict a field at all. It's a lot more fundamental than that. Just two competitors in a ring, stripped to the waist and wearing gloves. It's boxing.
Boxing's enduring popularity with Aboriginal Australia can be attributed to the fact that a lot of champion fighters have in fact been Indigenous. In a world where the odds are stacked against you, boxing has long been recognised as a vehicle by which to get off that one-way street and onto the highway of financial security.
The noble art of boxing has inspired many young blackfullas to the heights of self-discipline and physical prowess, turning them into elite sportsmen much admired around the country in the process. Jerry Jerome, Lionel Rose, Tony Mundine, George Bracken, Ron Richards, Hector Thompson, Elly Bennett, Dave Sands…the list goes on. Each of them started young, practised solidly, built themselves up and reaped the rewards. And generations of younger boxers have eagerly followed in their footsteps.
One young man continuing this legacy is Sydneysider Glen Kelly. Introduced to the sweet science by his father when he was just 10, Glen's quiet but steady determination to make a name for himself in this tough and uncompromising sport saw him rise to a number-one world ranking. This led to him taking on what commentators have termed the greatest light-heavyweight boxer of all time, Roy Jones Jnr. But while the outcome of that bout is common knowledge, few know anything about the quietly spoken family man who travelled halfway across the globe to fight his idol.
Glen Kelly was born in 1971 at Sydney's Crown Street Hospital. The second youngest of five children, he first lived in the inner-west suburb of Newtown, where he attended nearby Erskineville Primary School for two years before his family moved to La Perouse. Accordingly, he finished his primary schooling at the La Perouse local before going on to Matraville High School.
Glen had his first fight when he was just 10 years old, after being introduced to the sport by his father. He remembers going to watch his older brother Kevin fight a few years later.
"Kevin was doing well at the time. I wasn't planning on having any fights, but Kevin said that I should have a few and see how I go. Kevin was always fitter than everybody else. It wasn't really that I wanted to box – I wanted to be fit for football. But Kevin sort of inspired me, I guess."
Realising that he had the ability, Glen donned the gloves in earnest. "It wasn't about money or tradition, I just wanted to be somebody, you know? I didn't want to just be your average Joe Blow. I wanted to be somebody."
Throughout his teens and into his early twenties, Glen fought in boxing's amateur division, all the while charting the progress of big brother Kevin. Unfortunately there is no money to be made in amateur boxing, so Glen's first job was stacking shelves in Coles. From there he moved on to bricklaying. But he never really enjoyed amateur boxing and so turned professional in 1995.
Under the guidance of then-trainer George Reno, Glen won the New South Wales light-heavyweight title in 1997. The following year he claimed the Australian title from Garth Cushion, stopping him in 12 rounds.
After holding the title for two years, he relinquished it to fight overseas for the Intercontinental Boxing Federation light-heavyweight title, which he won. He then fought at South Sydney Juniors for the Pan Pacific title against a former dual Olympian from New Zealand, Sam Louie, stopping him in seven rounds.
"Winning the Pan Pacific automatically got me ranked in the top 13 boxers in the world," says Glen. "If they didn't have these titles for us to fight for, then unless you're American it would be very hard to get a world ranking."
He subsequently fought and beat Billy Lewis twice – once in Florida and once in Mississippi. "Apparently he was Roy Jones Jnr's sparring partner, but I can't see how he could have been. Mate, I flogged him!" He also fought and won in Noumea.
With his profile growing by the day and some major fights looming on the horizon, Glen decided to get himself a new trainer. "For about 25 fights I just didn't feel I was going anywhere. I have kids and I have a mortgage and it just didn't pay. I had to make a move and so Jeff Fenech was the person to go to."
Known as 'Kunga' in boxing circles, Glen is a fighter who can switch styles depending on the opponent. "I can be a boxer or a counter puncher. But I'm not a brawler or a pressure fighter."
For those of you unversed in boxing technique, a boxer is the general term for a fighter who has learnt the science of boxing and is thoroughly skilled in it, while a counter puncher describes the kind of boxer who responds to his opponent's punches rather than leading the fight.
Meanwhile a brawler is someone who throws big looping punches with little finesse or skill. Needless to say, a brawler would be putty in the hands of a pressure fighter – someone who continuously 'walks up' to his opponent, keeping the pressure high and cutting off the ring so there is no room to move.
Everyone who becomes a boxer wants to achieve the ultimate, which is to fight for and become a world champion. It so happened that Glen got that chance against his idol, Roy Jones Jnr, last month in Miami. Having won all his professional fights up to that point, Glen was ranked number one in the world and Roy was required to take him on if he was to maintain his title. (Roy is one of only three boxers to currently hold an undisputed world title – i.e. WBC, WBA, and IBF belts simultaneously. The other two are Australian Kostya Tszyu and American Bernard Hopkins.)
Before the fight, Glen had a number of thoughts on his mind. "I had mixed feelings. I was really confident that I could do something and then at other times I'd have bad feelings. This bloke is one of the greatest fighters who ever lived. Coming into the fight people were putting a lot of expectations on me, but I don't think they understood what I was up against."
He recalls taking the long walk down the aisle towards the ring. "The atmosphere was incredible. There were 12,000 people all screaming for Roy Jones Jnr. I had my wife and friends sitting close to the ring and they were probably the only ones cheering for me. But I felt very relaxed. I'd been more nervous about other fights. I wasn't scared or nervous and that may have been my downfall."
With regard to the fight itself, Glen feels as though he was caught between styles. "Jeff wanted me to be a pressure fighter and it didn't work for me. But I couldn't have beaten Roy any other way. It would have been impossible."
Glen fought a brave fight, but was knocked down four times and eventually stopped in the seventh round. "Although I was satisfied with how I kept getting up after I was knocked down, I thought I could have done better. A lot of people thought I wouldn't get up off the canvas, but I have a lot of guts. He never really hurt me except for that body shot he got me with."
Following that fight, for which Glen received a handsome loser's purse, the paced changed considerably as he made for Las Vegas to marry his childhood sweetheart, Tracy. From all accounts it was a memorable day.
"In Las Vegas they have drive-through weddings and they were doing one when we were there," he laughs. "It took about five minutes. It's like when you go to McDonalds and pick up your food and there's a guy at the window. We were just standing there laughing – we couldn't believe it!"
While Glen and Tracy attended the same school, their paths didn't cross. "We never knew each other at school but we used to go out to the same night clubs," he says. "I hooked up with her there and I've been with her for 12 years."
They now have two children – Tarni, who is three, and Trey, 18 months old. At present the happy couple are living at Brighton-Le-Sands while they wait for a house they've purchased at Little Bay to be built.
Glen has no plans for retirement at this stage and indeed has already picked the man he would next like to take on. "I want to fight for the WBO title held by German Dariusz Michalczewski. He's nowhere near the talent of Roy Jones Jnr. That said, he's a strong fighter, very tough and he punches very hard."
All things considered, you could describe Glen Kelly in similar terms. So will it be a match made in heaven? Watch this space.