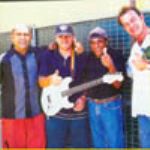 Deadly Vibe Issue 49 March 2001
Foot Hopping Rock
You would have thought the whole crowd at Survival 2001 had a Foot Fulla Bindies the way they were all jumping up and down to the band's music!
Their beats were infectious. As well as dancing, Wagga's Foot Fulla Bindies had the audience rocking and laughing for their full 20-minute set at Survival. Together since 1994, the band has already shared the stage with the likes of the Deltones and the Hoodoo Gurus.
Billy Simpson is the band's front man. He has a wicked sense of humour, a kickin' voice and does a mean Elvis impersonation, amongst other things. Others in the band include Geoff Simpson on bass, Mick Bromham on guitar and Roger Ansell on drums.
Vibe readers are just dying to find out how the band got their great name! Well, as you might expect. Bill walked home with no shoes one night in the rain. When he got home he was pulling out some bindies that his feet had collected along the way. Geoff came along and asked what he was doing, and when Bill explained he had a "foot fulla bindies" Geoff decided that was a good name for the band.
"Let's do it, man," they agreed, and haven't looked back.
Geoff Simpson is a real country and rock 'n' roll man. He's performed with many of Australia's upcoming country music stars, and played at the Murrumbidgee Country Club. He's been the backing band for many of Tamworth's top concerts such as Fanfest and Starmaker.
Mick Bromham has been playing guitar since the age of 14 and is influenced musically by the blues. A well-respected guitarist in the area, Mick is always in high demand.
Roger Ansell is another well-known muso, particularly in the country music and jazz scenes. He has performed with many acts both locally and internationally including Dale Watson (USA), Lee Kernaghan and Gina Jeffreys. He was also a member of the band who opened for Johnny Cash, Kris Kristofferson, Waylon Jennings and Willie Nelson on their Highwaymen tour.
Together the band are something else. Thanks to Survival 2001, there are a lot of us down here who want to hear more. We'll keep readers posted of any opportunities.
(Story 1/3/2001 end)