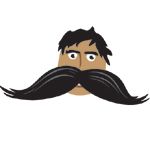 If you see more moustaches this month, never fear – it's just Movember!
Movember is an annual charity event held during the month of November that aims to raise funds for and awareness of men's health issues – specifically prostate cancer and male depression.
Men who register to take part in Movember spend the month growing a moustache, raising money from friends, workmates and family members who sponsor their mo-growth.
Why Men's Health?
Which ever way you look at it, men are far less healthy than women. The average life expectancy for a man is five years less than for a woman.
Men also tend to lack awareness about the very real health issues they face. There is an attitude that they have to be tough and are often reluctant to see a doctor about a health problem, or go for regular medical checks.
THE ISSUES
Prostate Cancer
Every year 2,900 Australian men die from prostate cancer and over 18,000 men will be diagnosed with prostate cancer. It is the highest cause of cancer deaths in men.
Depression in Men
One in six men experience depression at any given time, but most don't seek help. Rates of depression are much higher among Indigenous Australians, and Indigenous Australians are more likely to die from mental disorders than non-Indigenous Australians. This means it's vital to seek treatment and support if you are suffering from depression, or any other mental health problem.
Where will the money go?
A percentage of the funds raised during Movember will go to beyondblue: the national depression initiative, to fund important programs such as Indigenous Men's Sheds.
The Indigenous Men's Sheds program aims to raise awareness of depression and related disorders and to increase and improve access to health services among Indigenous men.
The program is currently being delivered in seven locations nationally and it will identify characteristics that make Indigenous Men's Sheds accessible, inclusive and effective.
Funds will also go to the Prostate Cancer Foundation of Australia's research program.
To find out more about Movember, head to http://au.movember.com
To find out more about depression and beyondblue, go to www.beyondblue.org.au
To find out more about prostate cancer and the Prostate Cancer Foundation of Australia, go to www.prostate.org.au