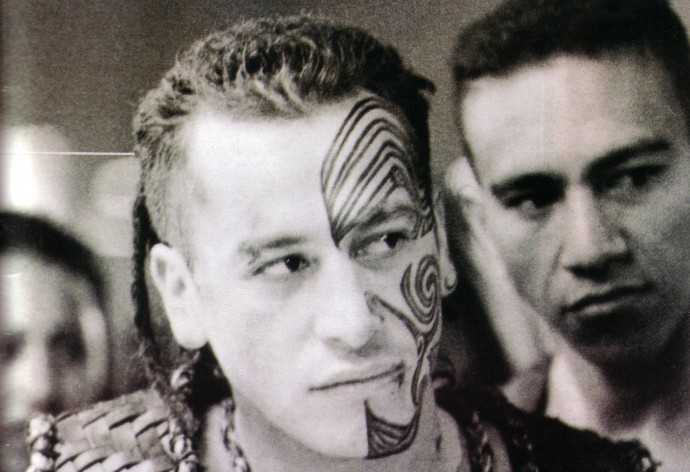 If you've seen the films Once Were Warriors or Broken English you'd have to remember Julian Arahanga. It's about his presence on screen.
Julian is currently in Sydney with the new Hollywood blockbuster, Matrix. Yes, the one with all the Keanu hype.
Deadly Vibe was lucky enough to meet Julian and chat to him about the film and his life in general.
Julien comes from Raetihi a town in the centre of New Zealand's North Island. His first appearance in a film was at the young age of 11 in the short film, The Makutu on Mrs. Jones. He has loads of experience in the film industry so far, first starting out as a freelance grip on commercials, films and television productions.
Julian was then cast for Nig, the rebellious son and bad boy in Once Were Warriors, an epic and violent love story that shook the world.
Once Were Warriors was an amazing film and for many of us in this country, especially Aboriginal people, there was almost a synergy between the New Zealand experience and our experience as Aboriginal people. The issues that were being dealt with were very similar to the issues that we face in our own communities.
Julian then starred in Broken English a story of Nina, a Croatian girl, who falls in love with Eddie, (Julian).
Julian has been living in New York now for a few years and describes his work at the moment as a little bit scary. It is scary because the life of a young actor brings you no promises or nothing concrete in terms of the future.
"One minute you're just kickin' around and the next minute you are with the Hollywood big boys," Julian explains.
After making Once Were Warriors, Julian does not want people pushing him into the direction of being a Maori actor who only plays one particular type of character. He wanted to be a more diverse actor who can master a huge range of characters.
Julian went to America on his own accord. He didn't have a job or anything he just went over and lived there for a year or so getting all sorts of work, not only acting.
"New Zealand doesn't make that many films so you don't get that many opportunities," Julian explains.
Then one day while he was in America he was called up by the directors of the new film Matrix to audition for a part. The directors had seen Broken English, and Julian was in America at the time so went out to Los Angeles to meet them. They liked him of course.
The Matrix stars Keanu Reeves as well as our very own Hugo Weaving. Julian plays Apok, one of the freedom fighters, a goodie saving the world from becoming computer generated.
"We are all human but we have had other machine attachments and we are out to free the world from the Matrix, which is a computer generated world."
At the moment, Julian oozes enthusiasm and is extremely excited about his new role and the opportunities that the film may bring.
"The first day I was quite shy and reserved but everybody has just made me feel at home." he laughs.
"Everyone on the Matrix has been really professional and just really helpful," he adds.
After this film, Julian will go home to New Zealand for a month and then go back to America.
Matix will be released in Australia in July next year. Deadly Vibe is sure Julian Arahanga will catch your eye!