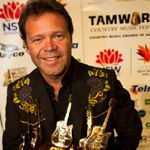 Keith Urban may be Australia's best-known country-music star in the US, but here on home soil it's Troy Cassar-Daley, fresh from winning multiple Golden Guitar awards at Tamworth, who's feeling the big, big love.
By the time Troy Cassar-Daley accepted his sixth Golden Guitar trophy at the Tamworth Country Music Awards late last month, it was all getting a bit embarrassing, particularly for a fella as humble and down-to-earth as Troy.
"Well, now I feel like a real guts!" Troy quipped, to the laughter of the audience as he accepted one of his many awards that night.
In one of the most memorable occasions of his career, the Australian country-music icon added six more Golden Guitar awards to his already substantial collection, bringing his career total to an amazing 20 in all.
Troy won awards for Male Artist of the Year, Single of the Year and APPRA Song of the Year (for 'Big, Big Love'), Heritage Song of the Year (for 'Chasin' Rodeo'), Vocal Collaboration of the Year (for 'Ain't Gonna Change For You' with The McClymonts) and Album of the Year (for I Love This Place), ensuring himself a very special place in Australian country-music folklore as one of the its most successful and awarded artists ever.
"I never could have imagined getting six awards in one night. I feel completely greedy," Troy said later.
Troy was clearly blown away by his record haul, but in his typically eloquent and gracious style he thanked a multitude of people, from contributors, friends and mentors, to his wife Laurel and his mum, sitting proudly in the front row.
"We set out to make a record that was positive … and full of love," said Troy about his ARIA-winning (and now Golden Guitar winning) album, I Love This Place, which has continued his magic run of standout releases.
The McClymonts were just as excited to share their Collaboration of the Year award with a modern icon of Australian music.
"We have grown up listening to Troy's music," Brooke McClymont said. "He is an idol for us – we are massive fans."
In one of his six acceptance speeches, Troy also weighed into a brewing debate over the increasing number of musicians and performers from other music genres who play at the traditionally all-country music festival each year.
"People should be coming here [to the Tamworth Country Music Festival] for one thing: and that is music," Troy said.
"You can lose sight of the intention of the festival in the first place, which was to play music and to bring enjoyment to people through music, and I would hope we can keep that in our minds."
Troy was 11 years old when he caught the country-music bug during his first visit to Tamworth with his mum. In fact, Troy remembers that after he saw Brian Young perform at the festival, he decided music was what he wanted to do in life.
He returned to Tamworth a year later with guitar in hand to join the throng of buskers who fill the streets. He watched the big country-music stars of the day roll into town and dreamt of one day playing on the big stage himself.
By the time he was 16, he was well on his way, making the Top 10 of the Tamworth Star Maker competition, and at 24, he received his first Golden Guitar nomination.
Two years later, Troy was named Best Male Vocalist at the 2006 Tamworth Country Music Awards, and he hasn't looked back, receiving numerous ARIA and Golden Guitar nominations and awards. Nowadays, there's even a life-size wax figurine of Troy at the Tamworth Wax Museum.
For the hundreds of young, budding musicians who flock to Tamworth for the festival each year, there's no bigger inspiration than Troy.
A big part of that success has been his remarkable rate of work and passion for music. In the past 15 years, in-between touring and raising a family, Troy has somehow managed to release seven top-notch studio albums, as well as a 'best of' compilation.
Troy's latest album, I Love This Place, released in 2009, re-asserted his standing as Australia's most popular local country artist.
Troy took an unprecedented 12 months off from touring to write and record the album, which he also co-produced. The album is a positive and joyous reflection of where he's found himself at this stage of his life and career. It promises that through the doom and gloom of the present day, there will be good times ahead.
"I really wanted people to see just how happy you could be in one particular stage of your life," he says about the motivation he took into the recording.
"More people should just pull up and smell the roses sometimes."
Troy also pushed his song writing and creative process to new limits, including taking up a tip from Keith Urban to try writing with just a drum machine for something different.
"I have always been a purist – writing with an acoustic guitar – but this time I plugged the Telecaster [guitar] into an amplifier and set the drum machine to a beat I enjoyed playing along to."
Troy says the technique opened up undiscovered territory with his song structure and helped to give the album a unique feel.
"You can teach an old dog new tricks," Troy says, laughing.
The inspiration for his track 'Big, Big Love', which won Single of the Year, was a text message Troy received from Keith Urban on the birth of his daughter, Sunday Rose.
"Keith sent me a text message when his baby was born with 'Big Love Keith!!' at the end, and I thought love doesn't get much bigger than the love you have when you hold your child in your arms for the first time," Troy says. "That's pretty amazing."
There's certainly some 'big love' for Troy at the moment, and as his last album and swag of new Golden Guitars prove, he's growing as an artist and only getting better.