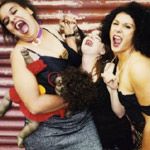 Deadly Vibe Issue 95 January 2005
A date with Destiny
When you first walk into Destiny Deacon's exhibition at the Museum of Contemporary Art in Sydney, you wouldn't be blamed for thinking that you had mistakenly stumbled into someone's living room.
That's because it is actually Destiny's Melbourne living room, or at least a version of it, which she relocated especially for her exhibition, Walk & don't look blak, which showcases Destiny's work from the past 15 years. Her living room is where Destiny makes her work, so this display gives you a great insight into the artist's mind.
Scattered about on the lounge and the floor and placed on the surrounding shelves is a bizarre collection of toys, photographs and Aboriginal and Torres Strait Islander iconography. A fish tank filled with glimmering fish is topped by a life-like head wearing a cap that says "˜Trust me, I'm a Witch Doctor'. The nearby TV set plays a collection of Destiny's curious short films.
It may seem like a strange introduction, but for an artist such as Destiny Deacon it's quite fitting. For 15 years, she has been creating contemporary art works that explore issues such as race, gender and sexuality within contemporary Australia society from an Aboriginal perspective, using the mixed mediums of photography, film, sculpture, performance and installation.
"I got involved in art because I didn't like the way white people were depicting us in photography, such as black children naked and wet in lily ponds," Destiny explains. "Also it's not fair that being black and poor means being unfit for a gallery. Sometimes we need to express ourselves with more than fists.
"Anyway, I gave it a go in 1990 and have been poorer, but happier, ever since."
At times darkly witty, at others chillingly eerie, Destiny's work is multi-layered " often concealing a deeper meaning beneath a veil of humour. At times she pokes fun at the clichéd beliefs that white Australia often holds about Indigenous people. At others she lays bare the feelings of entrapment, isolation and sorrow that 200 years of white occupation has brought upon her people.
Destiny claims her sense of humour comes from her late mother Eleanor Harding.
"My mother, (who was black as the ace of spades), had a great wit which would disarm, endear and shock people from all levels of society," says Destiny. "She raised seven children, from three fathers, in Melbourne poverty but had a very active, social and political life serving the community."
A selection of her photos lines the walls of the gallery, including the haunting Forced into Images, which documents a young woman's difficult journey through adolescence, and Postcards from Mummy, a sequence from Destiny's own journey back to her mother's homeland in Queensland. Her images tend to be blurred and low-tech, a style which Destiny describes as "el cheapo". This only seems to add to their impact.
Another recurring theme in Destiny's work are the little black "dollies" " toys depicting Aboriginal people that were popular in the 1940s and '50s. These are often placed in strange and sometimes even creepy scenarios, evidence once again of Destiny's wicked sense of "blak" humour.
It is ultimately this sense of humour that gives Destiny's work its edge – and its power. Forcing viewers to challenge their own beliefs, and to question those of others, makes Walk & don't look blak a compelling and eye-opening experience.
Walk & don't look blak will be at the Museum of Contemporary Art in Sydney until January 30. The exhibition will then tour internationally. Admission is free. For more information, go to www.mca.com.au
(story 1/1/2005 end)