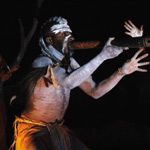 Deadly Vibe Issue 96 February 2005
Descendance say g'day to LA
Descendance Dance Theatre take a trip to Hollywood
Descendance Aboriginal and Torres Strait Islander Dance Theatre flew to Los Angeles last month to represent Australia at the G'Day LA promotion for Australia Week 2005.
Descendance was formed in 1999 from the Ngaru Aboriginal Dance Company, Sydney's first independent traditional indigenous troupe.
"Descendance was created to preserve and promote Aboriginal culture," says Descendance company director Jose Calarco. " We represent Aboriginal and Torres Strait Islander performers from many diverse tribes.
" Combining traditional and contemporary performance, we create employment opportunities and develop careers in music, dance and song. We have shows running nationally and internationally all year round."
While in LA, the dance troupe performed at a special tribute dinner for Nicole Kidman, Mel Gibson and Keith Urban on January 15.
"We arrived in torrential rain," says Jose. "It had rained every day for three weeks, with landslides killing some people. But every day after that was like summer."
Australia Week was held from 15 to 23 January in the lead up to Australia Day, and showcased all things Australian, including food and wine, film, arts, fashion, lifestyle, indigenous culture and tourism.
"Descendance took Hollywood by storm," says Jose. "The performance was a sensation, with Descendance performing with Delta Goodram and the Qantas Choir."
Other stars who were at the performance included Geoffrey Rush, Cate Blanchett, Olivia Newtown John, and Miss Universe, Jennifer Hawkins.
"We're also are developing our first Indigenous dance script," says Jose. "At the moment we have a leading Hollywood attorney presenting the story on our behalf to major directors and producers.
"We've worked on the script for the past six years, working with specialist writers to ensure it fits into the Hollywood structure."
Descendance has completed hundreds of shows across Europe, America and Asia, and participated in major world events, such as the Sydney Olympics in 2000 and the opening ceremony of the Rugby Union World Cup in 2003.
The Los Angeles tour for Descendance was its sixth overseas tour in the last 12 months.
(story 1/2/2005 end)