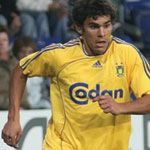 Great Expectations
One is a tried a true performer at the apex of his career. The other is tipped as being the Next Big Thing in Australian football. Kasey Wehrman and David Williams travelle d t housands of miles to chase their dreams and now these two deadly brothers are lighting up two of the top leagues in Europe.
At first glance, Kasey Wehrman and David Williams are two footballers that have little in common.
At 29, Kasey is an experienced journeyman now entering the last stretch of a tumultuous career. On the other hand, 18 year-old David is Australian footballs wunderkind, with the world at his feet.
But take a closer look and the two share more similarities than you might expect.
To begin with, both are Aboriginal " a rarity at the elite level at which they play. Both have starred in the Australian junior ranks and both ply their trade in the fiercely competitive football leagues of Europe.
However, the most important similarity that can be found between the two is the lofty expectations both have faced during the early stages of their careers.
Bo rn in Cloncurry in Western Queensland, Kasey began his professional career playing locally with the Perth Glory and the Brisbane Strikers. He was a regular fixture in the national side during Frank Farina's stint as manager, and became the first Indigenous footballer to play regularly for Australia, notching up a total of 12 caps for the Socceroos.
However, a serious ankle injury and questions over his temperament would place Kasey on the outs with Australian selectors until he eventually found himself pushed out of the Socceroos picture altogether.
Kasey then made the move to Europe, and has spent the past five seasons playing in Norway with two of the country's better-known teams, Molde and Lillestrom. But, as is the way in professional sports, one man's agony can be another man's opportunity. So when Socceroos star player Tim Cahill succumbe d t o injury on the eve of Australia's friendly with Ghana last month, the door of opportunity swung open once again for Australian football's forgotten man, and Kasey was rushed into the side five years after playing his last match for Australia.
In the same week that Kasey made his return to the Australian squad, Australia's star in waiting, David Williams, announced his arrival in the Danish Superliga (super league) in grand style.
At just 18, David has already been labelle d t he most exciting Australian footballing prospect since Harry Kewell.
David grew up in Brisbane and was a member of the Queensland Academy of Sport's soccer squad from a young age.
In 2005 he was selecte d t o represent Australia in both the FIFA World Youth Championships an d t he Under 17 World Championships " eventually playing in the Under 20 tournament held in the Netherlands.
David scored 10 goals in his first 10 matches as a junior international, an d t oppe d t he scoring at the 2005 Oceania Under 17 World Qualifying Tournament.
"He is something special," Australian Under 20s coach Ange Postecoglou says of David. " He's a Queensland boy who I first saw at the nationals representing his state. He had a goo d t ournament and he looked like he had something about him.
"He's a striker; he's quick, fearless an d t wo-footed. He's probably the quickest player I have ever worked with " he's lightning-fast."
Later in 2005, David travelle d t o Europe where he trained with Denmark's Brondby IF, Belgium's RSC Anderlecht and Club Brugge and UK super team Liverpool, and was offered contracts at all three clubs. He also fielded offers to trial at UK clubs Ajax, Manchester City and Bo lton, and Dutch club PSV. In January of this year he signed with Australian A-League club Queensland Roar, but after just two games he returne d t o Europe to join Danish champions Brondby IF on a three year contract.
It hasn't taken long to become somewhat of a sensation in his new home. After joining the reserves team he made an immediate impact, scoring an incredible 12 goals in just five matches, after which he was promoted for his first team debut off the bench in August 2006.
In early November, David started his first match in the Superliga and cappe d t he occasion with a cracking goal from 10 feet outside of the box; a defining moment in his young career and one that sent his growing army of Danish fans into raptures.
Despite only playing a handful of first team matches, David is already a crowd favourite, with Brondby supporters well-aware they have a potential super star on their hands. In fact, David only needs to start warming up on the sidelines to draw a roar from the fans who have tagged him "Super Dave".
While homegrown heroes such as Harry Williams and John Moriarty have done us proud, Indigenous Australia is yet to produce a true superstar player on the international football stage. At one time it seemed Kasey may become our first; while injuries held him back from fulfilling a his potential, he has overcome several setbacks to establish a successful career in the toughest, most competitive football environment in the world " an amazing achievement.
And now we have David , the precocious football prodigy oozing with raw talent and unknown possibilities. The potential of just how far this everyday kid from Brisbane could go should be enough to send shivers down the spine of every football fan in Australia.
With the national team currently going through a transitional phase as many of its stars slip into retirement, it is now up to the next generation of young Socceroos to continue the legacy of the 2006 World Cup heroes and carry Australia's footballing hopes into the future. David stands at the very forefront of this new crop of Australian stars and is set to spearhead Australia's drive towards the 2010 World Cup and beyond
At just 18 there is still a long road ahead for this young man, but what a ride it's going to be.