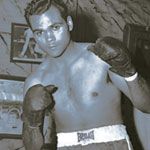 Remembering a Legend
He was one of Australia's all-time great sporting legends. Fifty-four years after his passing, a ceremony was held to honour the great Dave Sands.
Boxing legend Dave Sands was part of one of Australia most famous sporting families, the Fighting Sands Brothers.
Born in Kempsey in1926, Dave was part of one of Australia's greatest-ever sporting families. The Sands brothers " Clem, Ritchie, George, Dave, Alfie and Russell " were all renowned in Australian boxing at the time, but Dave stood out from the others as something truly special.
This young man from the bush went on to become Australian middleweight, light-heavyweight and heavyweight champion (at one stage holding all three titles simultaneously), and Australasian light-heavyweight and British Empire middleweight champion between the years of 1946 and 1952.
Not surprisingly, during this time Dave quickly become the one of the most popular sportsmen in the country. So when he died tragically in a truck accident at the age of only 26, Australia mourned the loss of a true sporting hero.
At the time of his passing, Dave's record stood at 110 fights for 97 victories and one draw. He was internationally considered one of the great fighters in the world and was already regarded one of the greatest-ever Australian boxers.
To mark what would have been Dave's 80 th year, a plaque in his honour which has stood on a busy intersection in inner-city Sydney was restored and re-unveiled in a special ceremony which celebrated Dave's amazing life and achievements.
Over 100 people attended the ceremony, including Dave's friends and family, admirers, former opponents and members of the boxing community who came to honour the legend.
"Any words of mine, however generous they may be, will fail to provide justice to the memory of the late Dave Sands both as a boxer and a man," said Michael J. Clarke, a close friend of Dave's and author of the book The Fighting History of The Sands Brothers who spoke at the ceremony. "This was no ordinary sportsman, for in our long and glorious sporting history he was the greatest fighter Australia has ever produced."
The plaque was originally put in place at the site in 1952 by one of Dave's close friends, Tom Laming Snr, who trained with and also fought Dave on two occasions. At the ceremony, Tom's son Tom Jnr was on hand to pay his respects to Dave Sands' achievements and legacy.
"When Dave came to Sydney, he trained at our gym in West Moreland Street," Tom told the crowd. "My Dad said that Dave was electrifying; all the people in Glebe would come to the gym hours before to watch him train. My dad said it was like he was a movie star.
"When he came to Sydney he lived in this hotel behind us called the University Hotel and my dad used to tell me that when he would run around in Victoria Park across the street here people would stop in the street. The buses would stop; people would get out of their cars just to watch him run.
"When my dad erected this monument to Dave he erected it to a very good friend, a very good fighter and a very good gentleman."
Among the many former and current boxers in attendance was fellow Indigenous fighting legend George Bracken, who spoke about the inspiration Dave provided to Indigenous people during his career.
"When I first joined the Jimmy Sharman Boxing Tent at 17 years of age, I thought to myself that this would be the first time I was going to meet an idol that I really loved," George said. "That was Dave Sands. Unfortunately the accident happened and I never got to meet him.
"During my career I happened to fight Russell Sands, Dave's younger brother " once in Brisbane and once in Melbourne " and I was so worried about fighting him because I had so much respect for the Sands brothers and for Dave."
Of all the Aboriginal boxing legends that have emerged over the year and etched their own unique chapter in Australian sporting history, Dave Sands holds a very special place and remains an unforgettable icon.
"He was the first Australian boxer, black or white, to venture overseas and achieve success," said Michael. "Those that had gone before brought no gold or title home with them, but Dave came home with the middleweight championship of the British Empire and a reputation as the most feared fighter in the world.
"I suppose it's quite possible for Go d t o create a greater sportsman, a greater middleweight and a greater champion, but so far he hasn't."