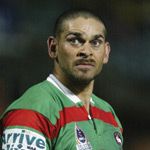 Deadly Vibe Issue 113 July 2006
Return of the Peach
David Peachey is back in the NRL and doing what he does best.
Rugby league fans were saddened at the end of last season when mercurial full back David Peachey announced his retirement from the NRL. For eleven seasons, "Peach", as he is affectionately known, was one of the shining jewels of the NRL. He became an icon at the Sharks; his athleticism, speed, magic hands, turn of pace and likeable nature all combined to make him one of the most exciting and best loved players in the competition.
David's decision to retire from the NRL last year was a difficult one. While he still felt as though he had plenty of fuel in left the tank, the club he had long served felt it was best that he moved on. Eventually he opted to head to England and sign with the Widnes Vikings.
Unfortunately, Widnes was relegated to the second division before David arrived. But he instantly made an impact on the team, becoming a crowd favourite. During this time David twice requested leave from the club to return home to be with his sick father. Unhappy with the time he was taking away from the club, Widnes eventually terminated David's contract.
Despite the treatment from the club's management, David still looks back on his time in England positively.
"Overall it was a great experience," he says. "I signed for two years and it was something that I was really looking forward to. I mean, it was cold and the training facilities weren't that good, but the football side of things was great.
"I enjoyed playing over there and it was unfortunate the ways things turned out, but right now I have another opportunity in the NRL and that's what I'm concentrating on."
David has now signed with the South Sydney Rabbitohs, and is excited to have the opportunity be playing in the NRL again.
"It was a little strange, putting on the red and green jersey at first after playing in blue, black and white for so long," he admits. "But to come home and play for a club like Souths that has such a rich history is great."
David wasted little time getting back to the kind of football that made him a star. He's had an immediate impact at Souths; helping the Bunnies to their first win of the season in only his second game. Now David's sights are set upon impressing the club's new owners and earning another contract for 2007.
"I'd love to play again next year," he says. "I think I have at least another two years of NRL football left in me, and so far I think I've done pretty well. Hopefully the boys can help me out, and we can get a few more wins by the end of the season, which will obviously help."
For now, with his fresh start, David feels like a 19-year-old again, playing for the first time with his new club.
"And that's the great thing about it," he says "Because of this opportunity I'm enjoying my football more then ever."
Here's hoping the Peach can weave some more magic before the end of the year and get the struggling Bunnies out of the cellar.
(story 1/7/2006 end)
Deadly Vibe Issue 105, November 2005
Peachey – A Retrospective
Deadly Vibe pays tribute to one of our finest sporting heroes, the one and only David Peachey.
David's football odyssey began on the sidelines of the local footy park in his home town of Dubbo in western NSW, where as a young fella he cheered on his three uncles, Mick, Martin and Marshall, who were stars of the regional competition.
By the time David turned 15, he was playing alongside his uncles for the Dubbo Pacemakers at the Dubbo Aboriginal Knockout, a moment he rates as one of the most memorable in his playing career.
Soon after, David was spotted by league legend Arthur Beatson while playing for South Dubbo High School and in 1992 he made the move to Sydney to join the Sharks under 21 side.
Two years later, David made his first grade debut for the Sharks against the Raiders in round one of the 1994 season.
It didn't take long for the Sharks to realise they had quite a talent on their hands, and for the fans to sit up and take notice of the league's newest entertainer. David quickly became a Sharks star and fan favourite; his slippery running, magic hands, athletic leaps and deft attacking vision making him one of the most dangerous players seen on a football field. David possessed the ability to turn a game on its ear with a stroke of individual brilliance.
In 1997, David played a Super League Test for Australia as well as three Tri-series matches for New South Wales. He also led the Sharks all the way to the Super League Grand Final, where they were unfortunately defeated by Brisbane.
David made his first and only State of Origin appearance with New South Wales in 2000, and continued to star for the Sharks deep into the finals series.
The following year he assumed captaincy of the team, a position he held until 2003.
In 2004 David reached a special milestone, playing in his 200th first grade game. He extended his contract with the Sharks till the end of 2005, allowing him to finish his NRL career at Cronulla and also have one last crack at an elusive premiership.
Importantly, football hasn't been the only thing that David has dedicated himself to throughout his career. He has remained a strong role model for Indigenous people everywhere, especially for our youth, and is recognised for his work with the community. He also established the David Peachey Foundation, an organisation committed to improving the lives of Indigenous young people.
In the final year of a sparkling career, David appeared in all 25 games of the season, still showcasing all of the unique talents that originally made him a star.
Not surprisingly, David finished his career with the ball in his hands as the final seconds of his last game ticked away. Digging into his bag of tricks, he chipped over the line in a last-ditch attempt to single-handedly lift the Sharks to an unlikely victory with some old magic. Even though it wasn't to be for the Sharks this time around as they fell to the Dragon by four points, it was a more than fitting way to end a magnificent career.
For over decade, David owned the Sharks number one jersey. He finished his career with 232 first grade games, all with the Sharks. He scored 101 tries over his career, many of which were the most spectacular ever seen on the footy field. His style of play was distinctly his own – rugby league just won't be the same without "The Peach".
Deadly Vibe congratulates David Peachey on a truly spectacular career.
(story date November 1, 2005 end)
Deadly Vibe Issue 99 May 2005
Three of a Kind
David Peachey is creating tomorrow's role models today.
Rugby league fans have watched the mercurial David Peachey do some pretty amazing things on the footy field during his career.
From scoring length-of-the-field tries and bamboozling defenders with a crafty sidestep or swerve to soaring though the air to take some memorable catches, David has always possessed something special that sets him apart from the average player.
If you've ever wondered where David picked up some of those magic skills, we may just have an answer for you. Or should that be three answers?
"My role models growing up were my three uncles, Mick, Martin and Marshall," says David .
"They were all really good footballers and one thing I will always remember is the time I got to play alongside all three of them for the Dubbo Pacemakers at an Aboriginal Knockout when I was 15."
David grew up in Dubbo, New South Wales, and as a ball boy from the sidelines he admired the way his uncles playe d t he game.
"They were all very different from each other," David recalls. "They ha d t hree very different personalities an d t hree very different styles of play. I always watche d t hem an d t hought how great it would be if I could combine all three of those styles together."
Not only was David inspired by his Uncles' prowess on the football field, he also had them on hand to keep him on the right track.
"They were always helping me along the way," he says. "Usually they would just give me a little one liner here an d t here to pull me back into line if I was going off track a bit.
"Two of them had a go in Sydney but ended up coming back to Dubbo, so obviously they are really proud of my success.
David's success has made him one of the most recognisable Indigenous players in the NRL. He recently utilised his position as a role model and high-profile player to establish the David Peachey Foundation.
"When I was young we very rarely saw football players come to come to our town to talk to us," David says. "So for a long time I have been coming back to the areas around Dubbo, to meet an d t alk with young Indigenous people and show them that I'm no different from the next person."
David also encourages Indigenous kids to stay on in school and further their education.
"That way we can have more Indigenous doctors, lawyers, teachers and engineers," he says. "This creates more of our own role models for our own people.
"We have a responsibility to get out there and help our kids and give them all the support they need."
(story 1/5/2005 end)
Deadly Vibe Issue 93 November 2004
Peachey-keen carols
Christmas is just around the corner, so it's time to start wracking your brain in an attempt to figure out what gift to buy your family.
But before dragging yourself along to the local shopping centre to spend hours browsing through socks, handkerchiefs and novelty ties, why not consider something that isn't just a great gift – it's also a fundraiser for the David Peachey Foundation.
Former Sharks and State of Origin captain David Peachey has called on some of his famous mates to record a special Christmas CD, The Twelve Days of Christmas. It includes three festive tracks, We Wish You a Merry Christmas, Santa Claus is Coming to Town and The Twelve Days of Christmas.
Along with Peachey, you'll also hear the sweet strains of Phil Bailey, Ryan McGoldrick, Jason Stevens, Nathan Blacklock and Reg Reagan (also known as Matty Johns) from The Footy Show.
But because footy players aren't best known for their singing ability, they've also been joined by the more vocally talented Shakaya, Todd Williams, J-Wess, Glenn Skuthorpe and Bobby McLeod, as well as a host of other stars such as Human Nature, Alex Lloyd, Shannon Noll, Rob Mills and Jimmy Barnes.
Proceeds from the sale of the CD will go to the David Peachey Foundation, which helps young kids from country and remote areas in their quest to become professional athletes. Donations will also go to the Starlight Foundation, which works to brighten the lives of seriously ill children and their families.
So there's your Christmas conundrum answered – a special gift that your family will love that also helps out the kids. So ask your local music store if it's in stock. You can also check out the website at www.davidpeacheyfoundation.com.au
(story 1/11/2004 end)
Having started playing the game he loves with the Dubbo Pacemakers when he was just five, David Peachey, a Wiradjuri fulla, could almost be the Mozart of football.
The talented youngster went on to play A-grade for the club as a 16 year old alongside three of his uncles. It wasn't long before the great Artie Beetson spotted David playing for South Dubbo High School.
David moved to Sydney in 1992 and was slotted in the Sharks' U21 team. Two years later he graduated to first grade and has been with the Sharks ever since. Offered the captaincy in 2001, David is now a 10-year veteran with the team who has also been twice selected for State of Origin.
Deadly Vibe Issue 67 September 2002
The Sharks' stately captain David Peachey is gearing his side up to devour the competition in this year's finals series.
Cronulla have been one of the most consistent teams in the competition, with 15 wins from 23 games to date. Currently sitting pretty in fourth place, it's do or die time for a team that hasn't enjoyed a grand-final victory since the '70s.
Having started playing the game he loves with the Dubbo Pacemakers when he was just five, David, a Wiradjuri fulla, could almost be the Mozart of football.
The talented youngster went on to play A-grade for the club as a 16 year old alongside three of his uncles. It wasn't long before the great Artie Beetson spotted David playing for South Dubbo High School.
"Becoming a first-grade footballer never really crossed my mind," says the lanky fullback. "It was just a case of being in the right place at the right time. If it wasn't for school I wouldn't be where I am now."
David moved to Sydney in 1992 and was slotted in the Sharks' U21 team. It was an auspicious debut for the 18 year old who helped his side win that year's U21 competition.
"We had a pretty red-hot side back then with players like Matty Rogers, Adam Dykes and Dean Treister. All year I think we only lost one game and drew one."
Two years later he graduated to first grade and has been with the Sharks ever since. Offered the captaincy in 2001, David is now a 10-year veteran with the team and has no intention of going anywhere else.
"I've still got two years to go on my current contract. Hopefully at the end of those two years I will be injury free and still be playing good footy. I'll be 30 then, so it'd be great to re-sign with the Sharks and finish my footy career here."
David regards Andrew Johns and Darren Lockyer as the two best players in the game today. But when he was a young fulla growing up in Dubbo, he reckons his three uncles were the best.
"Mick, Martin and Marshall Peachey were pretty well known around the Group 11 competition," he says. "In fact, two of them came to Sydney to play, one for Souths and the other for the Roosters."
One of David's most memorable moments was when he scored the winning try in his State of Origin debut in 2000.
"Unfortunately I couldn't play the rest of the series due to injury. But that was an amazing feeling to score a try like that in my first Origin game."
David is hoping for another memorable moment before he retires – a premiership victory.
"Hopefully that will come around soon, if not this year then maybe in the next couple of years."
This year is definitely a possibility. And while David is happy with his team's form, he maintains there's always room for improvement.
"We still have a long way to go and everybody knows that finals footy is totally different. We just have to take it day by day and hopefully stay fit and healthy."
(Story 1/9/2002 end)
Deadly Vibe Issue 80 October 2003
When the Sharks travelled to Parramatta for their Round 24 clash, their finals hopes had already been dashed. Coming into the tail-end of a disappointing season, the Sharks, led by captain David Peachey, were playing for nothing more than respect.
Dave Peachey is, without a doubt, one of the game's genuine nice guys. He is a terrific spokesman for his club and his people, and never hesitates to volunteer for charity and community events that help Indigenous kids. With a heart as big as any in the NRL, Dave was even named NAIDOC's sportsperson of 2003.
So at Parramatta, everything was in place for a regular first-grade football game. Then the whistle blew for the kick-off and the crowd witnessed something very different. Somewhere in the avalanche of Parramatta tries that followed, Peachey got angry.
Perhaps it was the effect of Cronulla's long, disappointing season, maybe it was the scoreboard or, more likely, it was the refereeing of Shayne Hayne that pushed Peachey too far.
With frustration reaching boiling point, late in the first half Peachey flew into Eels forward Darren Tracey with a flurry of uppercuts, a rare sight for the usually composed player.
At half-time, Sharks coach Chris Anderson instructed Peachey to talk to the referee about what he considered to be the referee's questionable interpretations of the rules.
When Dave approached Hayne early in the second half, he was reprimanded by the referee for waving his hands as he spoke. Dave replied that he talked with his hands as well as his mouth.
Hayne then decided to talk with his whistle, and sent Peachey for 10 minutes in the sin bin for dissent. As Dave began to make his way off the field, he made a parting comment, this time with his mouth.
Whatever was said left Hayne unimpressed and he ordered Dave to make his way back over so they could talk it over. But the captain had had enough talking for one day, and kept on walking. With his back to the referee, he was sent off for the remainder of the game and later received a two-game suspension, ending his season.
(Story 1/10/2003 end)