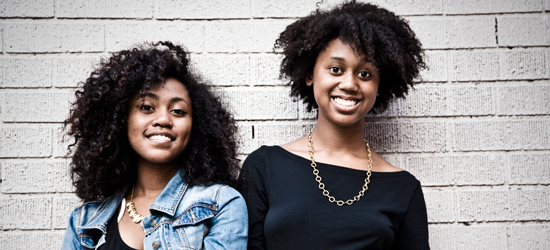 Talented Sydney born sisters Majeda-Mo (Majik) 14, and Xing-Yee, (Honey) 13, who perform together as promising new hip hop and RnB duo MajikHoney, are hoping to take their passion and their dream all the way to the world stage. For these sisters a life of entertaining seems like it was meant to be.
Their mother, Taryn Beatty, has taught and performed traditional and modern dance extensively both here in Australia and overseas, including the Atlanta Olympics with the acclaimed Bangarra Dance Company. Father, Sam Beatty, a New Yorker of African-American heritage, is one of the original Hip Hop artists from the influential 80's era. As a family they have been performing for many years together, sharing traditional Aboriginal and Torres Strait Islander music and culture with schools throughout Australia, and more recently have been incorporating Hip Hop culture into their shows.
The sisters lived and worked in the USA for two years with their parents performing in cultural workshops, schools, colleges, festivals and Pow Wows across the USA from east coast to west coast. "Living and working in the states was an eye-opener and an inspiration for us. Whilst there we got to meet many actors, musicians and dancers who were succeeding in their chosen crafts," Majik says.
In 2009, the girls both successfully auditioned for the Gondwanna Children's Choir. While with the choir, they had many exciting experiences, travelling to Shanghai for the World Expo and appearing in the iconic I Still Call Australia Home Qantas ad campaign. "The highlight during this time was performing for Oprah, Nicole Kidman and Keith Urban," says Majik. This extensive performance experience planted the seed of one day branching out on their own. In 2011, the girls received positive feedback after performing together for the first time on the Young, Black and Deadly Youth stage at the Yabun Festival, but it wasn't until the following year that they started to seriously consider forming their own group. Majeda-Mo also won studio recording time that year, after taking first prize at a spoken word competition. In the studio, producer The 26th Letter, laid down the beats and the girls started to write their own rhymes. It was at this stage that their father Sam, suggested they better come up with a name – and MajikHoney was born.
Sam was also able to give the girls some guidance when it came to rhyming. "Dad introduced us to Hip Hop culture and he still gets up to rap occasionally and get down on the dance floor, even though he's getting on a bit now!" says Majik with a giggle. MajikHoney are influenced by a wide variety of artists including big acts like Destiny's Child and Beyonce and also home grown talents Shakaya and their own grandmother Cindy Drummond, who is also a recording artist. Shakaya in particular have been a huge inspiration: "They were hugely influential being a successful Indigenous duo that we could relate to," Honey says.
The highlight so far for the talented duo include hosting and performing on the Young Black and Deadly cruise on Sydney Harbour where they got to perform alongside Australian Hip Hop legends and were given some timely advice by Naomi Wenitong of Shakaya/The Last Kinection fame: 'Never give up. Keep going for your dreams'.
As well as channelling their creative talents through their music, both Majik and Honey love being able to share and pass on the knowledge and traditions of their culture. "We love working with people and sharing our passion for music and our culture. Ultimately getting a following, being able to perform all over the world and succeed in the entertainment industry is our dream," says Honey. One thing is for sure – the girls are strongly grounded in their culture and are positive role models for our Indigenous youth. MajikHoney are currently working on tracks for their upcoming EP to be released in 2013. You can also catch them live at venues around Sydney.
Photography: Liza Moscatelli (Mosca Media Australia)