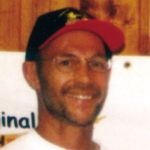 Deadly Vibe Issue 94 December 2004
A town called Alice
He only lived there for a few years, but for one man there's no place better than Alice Springs.
Indigenous sports development officer Darryl Little is about to return to his favourite place in the world " Alice Springs.
Darryl has been working at Port August in South Australia for the past couple of years, but now he's taken a post with the Australian Sports Commission to help develop after-school activities in the Alice area to counter the growing problem of childhood obesity.
Ever since Darryl and his family spent a few years living and working in the Alice in the late '90s, he's been intrigued by the place.
"Years ago, I read the book A Town Like Alice," Darryl says. "Since then, I've always been fascinated by the place.
"Now that I've been there and lived there, I'd say Alice Springs is adventure, it's bush, it's the outback. It's a place with mystique. Whenever I think of Indigenous culture, I think of Alice Springs. There's a lovely dynamic to the place.
"Alice is the sort of place where a lot of people leave, then two or three years later they're back. There's just something about those red hills of the Stuart Ranges."
He's also looking forward to doing his bit to help out in the field of Indigenous health.
Over the years that he's worked in sports development, he says he's often found himself playing the role of coach.
"When I sit down and talk to guys, all sorts of things come up," he says. "It's not unusual to end up talking about domestic violence, sexual assault, health and wellbeing, and men's business.
"When I go out to communities, it's not just about sport " but it's a valuable tool or carrot to get people together to talk about other things."
(story 1/12/2004 end)