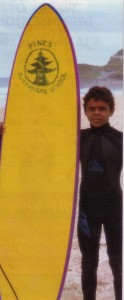 Newcastle's month long festival of surfing, Surfest 97, saw the first Energy Australia National Indigenous Pro.
The event saw surfers from NSW and Queensland compete in the junior and senior short board, long board and body board categories.
The event was held in 2-3 foot waves. The first day's heats had to be cancelled due to masses of blue bottles which sting surfers, conditions boarded on perfection after that.
The event winner of both junior and senior shot board was Ty Arnold from Berkley Vale on the Central Coast who was only beaten once in three days of competition.
Strong performances were also put in by Darren Pead (South Coast), Ricky Vidler (Byron Bay), Andrew Ferguson, Leo and Neil Mercy (Coffs Harbour) and local lad Michael Darcy (Rehead).
In an effort to highlight the diversity of Aboriginal Culture, the organisers of the event Andrew Collins and Paul Collis both arts officers attached to the Newcastle Community Arts Centre, arranged for local band Talkin
Story and local artist Mini Heath to both entertain and conduct Aboriginal art classes and demonstrations. Learn- to- surf clinics were also run for spectators by Mick Williams of Pines Surf School.
An Impromptu visit by Sharon Finnen, O.A.M. nad Freda's Dream, the Sydney based Indigenous Netball Team proveds the support the event received from the wider Koori community.
After one day off the Koori competitors ranks were swelled by the arrival of Fingal Head brothers, Kaleb, Kyle, Joshua and Joel Slabb hit the water in the Annual Koori/Police Teams Challenge. The event which had never
been won by the Koori side saw the two teams meet for a social BBQ at Wickams, Lass O'Gowrie hotel. This meeting once again showed that reconciliation between police and the Aboriginal communities can take any form.
Each year the event attrfacts ore and more competitors from both sides. The police team or 'Seepages' as they are known usually dominate the event due to lack of Koori competitors in the long and body boards events. In
a move which demonstrated the Seepages commitment to the reconciliation process they happily lent "Mals." And body boards to KOORI competitors to give the Koori team a fighting chance. This was to prove the
Seepages undoing.
The surf had improved and provided excellent quality waves for all competitors. The presence of S.S., Channel 7's – Today Tonight Show, Prime and NAN Television showed the interest of the wider community in what is
becoming the most sought after trophy on the surfing calendar.
After two days of intense competition and the presentation of the individual categories the Koori team emerged the victors by 11 points. The winners of the individual categories were:
SHORT BOARD (ALL KOORI COMPETITORS)
PAUL EVENS
ANDREW FERGUSON (COFFS HARBOUR)
KYLE SLABB (FINGAL HEAD)
TY ARNOLD (CENTRAL COAST)
LONG BOARD
DAVID DEE (POLICE)
MICK COTTIER
TOMMY REYES (HONOLULU POLICE)
JOEL SLABB (FINGAL HEAD)
BODY BOARD
JABE JONES (POLICE)
JAMIE ARCHIBALD (POLICE)
MELANIE JONES (POLICE)
MARK COUZENS (POLICE)