We can find humour in the lived experience no matter how painful or difficult. Humour can allow us to heal through laughter but can help us begin to talk about things that are hard and make us uncomfortable.
"Is Racism The New Black?" is a comedy event run by The Lowitja Institute and will feature Richard Frankland, Charlie Pickering, Libbi Gore and Meshel Laurie. The night aims to put a focus on racism in Australia.
The Lowitja Institute (National Institute for Aboriginal and Torres Strait Islander Health Research) is the only research organisation in Australia with a sole focus on the health and wellbeing of Aboriginal and Torres Strait Islander peoples. The vision of the organisation is to achieve equity in health outcomes for Aboriginal and Torres Strait Islander peoples.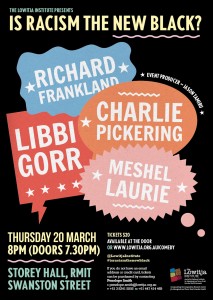 The comedy event will conclude the Lowitja Institutes' third biennial Congress that discusses the future of Aboriginal and Torres Strait Islander health and how we can change the present so that the future is brighter.
"To hear Australia is not a racist country can be more hurtful than any other racist actions. To say we are not a racist country denies the experience of many of our citizens, including Aboriginal and Torres Strait Islander people," a spokesperson of the Lowitja Institute says.
"Racism impacts on health in three ways – internalised racism, interpersonal racism and systemic racism. Research evidence has shown that the lived experience demonstrates that there is no doubt that racism affects our health and wellbeing and it is now time to move for action.
"One of the most important things we can do is talk about racism – in a variety of spaces, in different ways including on radio, in the newspaper, in seminars, in class, in books.
"Talking about racism will ensure that there is a voice that provides an alternative thinking, those who have experienced racism will no longer feel alone and bring to the fore ways to change our society for the better. It will find new ways to address racism and promote diversity within Australia."
The Lowitja Institute is named after Dr Lowitja O'Donoghue AC, CBE DSG, who is widely admired and respected champion of Aboriginal rights.
The event will be held in Melbourne at Storey Hall, RMIT, Building 16. Tickets will be available at the door from 7.30pm and for more information you can visit The Lowitja Institute.