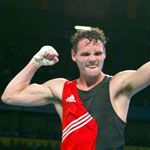 Deadly Vibe Issue 64 June 2002
DANIEL GEALE: HEAD DOWN, FISTS UP
Training up to 30 hours a week, 21-year-old Australian and Oceania welterweight champion Daniel Geale is as ready as you like for the Games.
Halfway through a one-year scholarship at the Australian Institute of Sport in Canberra, the quietly spoken orthodox boxer is also studying for a Certificate III in Fitness at the Canberra Institute of Technology. Clearly, this is a man who plays, eats, sleeps and dreams about sport.
It's always been this way for Launceston-born Daniel, whose father took him to check out a boxing ring when he was nine.
"I was already doing a lot of sport at school – Aussie rules, cricket, tennis – but I wanted to do more," says Daniel. "Dad suggested boxing. We went to one of the training sessions and I never looked back."
His pugilistic prowess was in full display at the 2002 Australian championships, held in Melbourne in March. The referee stopped both his bouts at the beginning of the third round because Daniel had reached a 15-point lead.
The following month at the Oceanias in Taupo, New Zealand, his first bout was stopped in the first round after Daniel inadvertently broke his opponent's nose.
"That was pretty gruesome," he recalls. "The doctor had to break his nose back into place."
A light middleweight (71kg) for two years, Daniel decided to drop down to welterweight division (67kg) after a win at a Sydney Olympic test event in 1999. It was a canny decision, as he's been winning titles ever since.
Coached by fellow Tasmanian Graeme George for the last six and a half years, Daniel is currently under the tutelage of national boxing coach Bodo Andreas. He has nothing but respect for both men.
"Graeme is a tough, switched-on trainer who would never ask me to do anything he wouldn't do himself. But he'd do anything, pretty much!"
And Bodo? "Coming from Germany, his approach is a bit different. They have a very tough style of boxing there. Once you've fought a German in the ring, you really know you've been in a fight."
The former East German coach, who took Nigeria's silver medal-winning team to the 1992 Olympics, is ensuring that Daniel and the three other AIS-based boxers selected to the team are well-prepped for Manchester. This translates as a punishing regime of sparring, shadow boxing, technique work, sprints, jogging, swimming and weight training.
Bodo's more than happy with the results. "As one of our high-profile amateur boxers, Daniel is really focused and very disciplined," says the coach in his melodic accent. "He listens and he tries to fulfil all his goals step by step. It's nice working with him."
For his part, Daniel's glad he discovered such an enjoyable sport at such a young age.
"Boxing gives you the ability to control your body in most situations. It's made me perform so much better in other sports too. When you're competing against another person like you are in the ring, it makes you a fairly strong person."
Daniel is nothing if not strong. Though he's not sure of the exact figures, he estimates he's won "close to 100" of the 130 bouts (or thereabouts) he's fought. His appearance at the Games looks set to increase that win/loss ratio.
Before Manchester, though, there's Kazakhstan and the World Cup to contend with. Daniel expects to fight a minimum of two bouts.
"I know it's going to be a tough tournament because it'll have the best in the world. I'm just going out there to learn as much as I can. Hopefully I can match it with them, if not beat them!"
Daniel is the current Tasmanian, Australian and Oceania Welter weight champion. The '9 year old Tasmanian has a big future in boxing ahead of him. Living in Launceston, Tasmania, Daniel has Ibeen boxing for most of his life.
Date of Birth:
26 February 1981
Height:
177cm
Place of Birth & Residence:
Launceston TAS
Weight Division:
Welter Weight Boxing
(Story 1/6/2002 end)