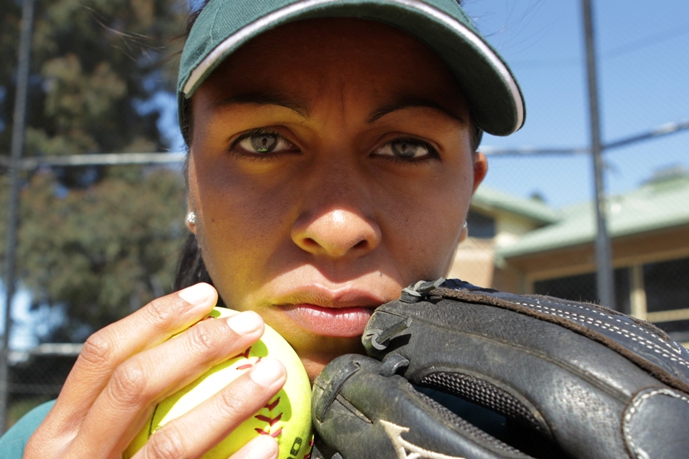 Vanessa Stokes is a woman who has risen to the top ranks of her sport through her persistent hard work and determination but despite her gruelling schedule to compete at the elite level, she somehow finds time to help out her people too.
The international softballer was recently the proud recipient of the Tanya Denver Award as part of the Advertiser Channel Seven Sports Star of the Year Awards for her courage and performance to reach the elite level of her sport.
"It's pretty special as an Aboriginal athlete to win any award because it actually shows that you have been recognised amongst your peers and within the community," says Vanessa.
"It gives me courage because I'm representing my family as well as my people."
Originally from Alice Springs, Vanessa grew up in Darwin and has been pitching in the sport in which she is deeply passionate about since she was four-years-old. She also had a knack for basketball but softball came out on top when she was selected in the U19 Australian team at just 13.
She has played at all levels of the game and has just returned home from Japan where she played alongside fellow "sistagirl" Stacey Porter in the Professional Japanese Softball League for Kyoto based club, Sagawa. She hopes to return after her contract is renewed in March next year.
"It's awesome playing over there. They're really talented and play at a fast pace. As Aboriginal athletes we have that natural talent but when we combine that with some of their skills, it's awesome what you can do and achieve"' she says.
"I enjoy being around my teammates, especially with Stacey. We have become closer by playing in Japan and we have that Aboriginal connection – that's really awesome."
Vanessa says the Japanese culture is similar to our own in the way that they value the important things and she gets a sense of unity because they have the same common objective – dominating on the Diamond (softball field).
"They look at us as people and that's what you need in your sport. If you are Aboriginal or a Torres Strait Islander, I guess that sometimes you feel like a bit of an outcast but, over in Japan, it's a different story for me because we're all playing as one, to be the best professional players we can be," she says.
Vanessa doesn't only dominate on the Diamond – she also uses her skillset to help young Aboriginal and Torres Strait Islanders in remote communities realise that they are the writers of their own life's novel and the pages can be filled with whatever they desire.
"I feel as though I have that to give back to my people individually. Alice Springs, where I am from is pretty remote and my people don't get to see many things around Australia and overseas and may not even know that that world really exists," she says.
"I relate my experiences in a bicultural way so I'm working with them and not overpowering their voice.
"I strongly believe they need Aboriginal role models because it guides them and gives them a sense of wellbeing and that positive direction in life."
For now Vanessa wants to keep playing the sport that she loves but says she is looking at her "business options" for later down the track and will always have a hunger to inspire young Aboriginal and Torres Strait Islander people.