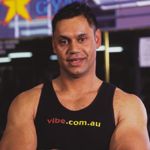 Deadly Vibe Issue 60 February 2002
Build It Up
From footy to body building via the hundred-metre dash, Bruce-Lee King is a dynamic young man with talent to spare and energy to burn.
He ain't heavy, but the weights sure are. Katherine-born Bruce-Lee King is one of the only Aboriginal body builder competing at the elite level in Australia. And he's making quite an impact. At last October's Australian NPC/IFBB Body Building Championships, the tower of power from the Territory was presented with an award for Most Outstanding Achievement. Now that's some accolade considering he'd only started training seriously a year and a half beforehand.
"It was the first time I'd competed at all and I was that nervous," he laughs softly. "I didn't really know how to pose properly and I had to drive for four days just to get there. But Tony Doherty, president of the International Federation for Body Building in Victoria, who manages all the professional body builders in Australia, pulled me aside and said I had a lot of potential and that if I stuck with it I could be a real rising star."
Now living in Sydney, 26-year old Bruce-Lee is surely ready to rise. Currently weighing in at 90kg and visiting the gym twice a day, every day (yep " that's 14 times a week), he's feeling great and reckons he's never looked better. And we're not about to argue with that.
"I want to be the best body builder in Australia within five years. Within seven to 10 years I'd like to be the best body builder ever in Australia. There's a lot of opportunity for me, being the only Indigenous person in the arena. I want to promote myself as a complete package, portraying an image of Aboriginal success and achievement to the mainstream."
It's true that Bruce-Lee has a lot more to offer than just a great six-pack. He's also smart, well read, very sociable and skilled up. After studying for an Advanced Certificate in Community Development from the University of Adelaide, he worked in health promotions for Territory Health Services before moving to his current job at Centrelink, where he is an Indigenous liaison officer. Clearly, Bruce-Lee's heart is in community.
"A lot of my zest has come from my work as a health promotions officer in Tennant Creek. That's where I started to really identify with the community and its interests. I realised that our own culture could give us strength and liberation. It made me think, "˜I want to get out there and be a role model! But what can I do, what am I good at?'"
Well, a number of things. Bruce-Lee's very athletic adolescence had seen him represent his state in footy (league, union and touch), and train as a sprinter for five months after running the 100m-dash barefoot on grass in 10.9 seconds. (He eventually worked that down to 10.6 seconds.) So why did he choose body building?
"I was really skinny as a kid," he explains. "People were always telling me I'd be a bony arse my whole life, and that really got to me. Fortunately I developed the kind of physique that responds really well to training; I lift weights and I look good. Then my father passed away in November 1999 and that gave me the drive to really do it. He loved the way I looked " you could see it in his eyes."
You can see it in Bruce-Lee's eyes, too, the life-affirming spark that personal growth, self-discipline and a truckload of chicken can bring. Consuming between 2,500 and 3000 calories a day " 40 per cent of which is protein " he also takes multivitamins, whey protein and the liver cleanser milk thistle. Overdoing it? Not at all. Bruce-Lee has some pretty big events coming up, including the Aussie Bodies Physique 2002 Event, and a big Australasia-wide comp soon after.
"Diet is one of the most important things in life generally. In body building it's probably about 70 per cent of the whole equation. Eating right is the difference between looking average and looking great, irrespective of how much grunt you put into your routine."
Rest assured that Bruce-Lee is putting in plenty of grunt at his newfound gym in Sydney's Leichhardt. "Sydney's good for body building; training's the in thing to do here. I'm just at the beginning stage, really, but I can still put it to people who've been in training for a long time!"
It's a far cry from his childhood in Katherine. Born with German, Irish, Mudburra, Gurindji and Yanyula heritage on his mother's side, and Garawa, Waanyi and Chinese on his father's, Bruce-Lee and his six siblings "enjoyed the little things" like swimming and playing tag, even when there was little or no food on the table. But there were some bad influences in Katherine, too. By the time he was 10 Bruce-Lee was smoking cigarettes and marijuana, and stealing drinks.
"I'm glad my oldest brother, William, took me down to Adelaide when I was 11 to do most of high school there. William was my biggest role model as a child. He'd always pull me aside and talk to me. He'd say, "˜You can be whatever you want, there's nothing you can't do.' William and Mum are the ones who really instilled that mindset in me."
Now Bruce-Lee wants to pass on some of the support he enjoyed as a little fulla to others. "I want to get out there and talk to Indigenous young people, inspire them and make them feel special. Body building gives me an avenue for talking about self-discipline and determination, which is what it all comes down to. If you have those qualities, you can be whatever you want."
(Story 1/2/2002 end)
Deadly Vibe Issue 59 January 2002
Here's Bruce!
After winning the Most Outstanding Achievement Award at the 2001 International Federation of Body Building (IFBB) Australian Championships in Sydney back in October, Katherine man Bruce-Lee King is set to make his mark with muscle in 2002.
Being the only Aboriginal competitor at the most elite level of Australian body building, Bruce only too well appreciates the level of personal commitment required to succeed. So strong is this man's dedication to his sporting future that he recently relocated from the remote Northern Territory to frenetic Sydney.
"I'm really serious about my body-building goals and it's now an all-out assault, to realise my total potential and take my career to another level," says Bruce.
"I am the only Aboriginal person at this level of body building, so that really motivates me to succeed and show other people they can achieve as well."
Keep reading Vibe throughout 2002 for more on Bruce-Lee King.
(Story 1/1/2002 end)