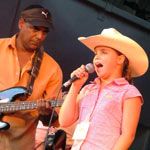 Deadly Vibe Issue 96 February 2005
Concert of the Ages
It was on for young and old at Tamworth's Bicentennial Park during a special cultural concert.
A huge, free concert was held in Tamworth's Bicentennial Park on Tuesday, January 18 to promote and showcase Aboriginal country music.
Featuring a line-up that combined our newest Indigenous country music talent with a number of more seasoned performers, the concert attracted over 3000 people.
Some of our littlest stars were singing at Tamworth for the first time, including pint-sized performers Henley Williams and Tyler Beckett.
"They're both about seven years old," says Agnes. "And they totally stole the show. Henley did this drum solo that was beyond belief.
"But that's what it's all about, really " the kids. They sure loved having the opportunity to get up there and perform."
Also performing were Jaleesa Donovan, Bridgette Grey and The Know Boys.
"Jaleesa sang really well," Agnes says. "She has really come out of her shell this year."
Red Ochre Creations and Andy Alberts also had the place jumping, not least because of a fantastic PA system.
"Bicentennial Park was where Kasey Chambers did her big concert, and she had the best of everything," says Agnes. "Because of some communication breakdown somewhere, we ended up having to pay for the use of this equipment instead of using our own, but it was really worth it in the end " they could hear us a mile away!"
Deadly Award winner Michael Donovan, best known as a member of the famous band of brothers The Donovans, was planning to use the concert as a launching pad for his new solo album, Every Single Day. However, as the CD still required some final touches, it was decided that the launch should be put off until a later date.
"It was supposed to be Michael's night," says Agnes. "But even without his CD launch, the concert was still a huge success."
(story 1/2/2005 end)