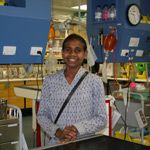 Murdoch University's Waardong Professional Education Program for Aboriginal and Torres Strait Islander students offers alternative entry for Indigenous people into Veterinary Science. There are currently nine students undertaking the program. To date, 12 students have graduated with a Bachelor of Science in Veterinary Biology Degree and 10 have completed their final two years of clinical studies and registered as Australia's first Indigenous veterinarians with a Bachelor of Veterinary Medicine and Surgery.
Waardong encourages its graduates to return to their communities, where they can contribute to improving a range of public and animal health issues and animal welfare.
The program is also designed to create positive role models for young Aboriginal and Torres Strait Islanders within the community and encourage young Indigenous students to study at Murdoch.
Halls Creek District High School Year Eight student Brittaney Skeen visited Murdoch University's Veterinary Hospital last month, to check out future career possibilities.
Brittaney was shown through the state-of-the-art facilities by Steven Warry, Supervisor of Nursing Services at the hospital.
Brittaney also got to visit the Perth Zoo and the Aquarium of Western Australia while she was in Perth, which was thanks to the Wunan Foundation.
The Wunan Foundation's purpose is to ensure that Aboriginal people in the East Kimberley enjoy opportunities that lead to positive choices for independent and fulfilling lives – essentially, to have dreams and a fair chance at achieving them.
For more information about Wunan go to www.wunan.org.au
For more information about the Waardong program head to www.vetbiomed.murdoch.edu.au/waardong