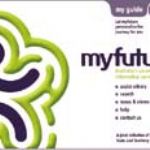 It can sometimes be hard to work out what to study, what sort of job suits you best, or which step to take next to build that great career.
You might even be thinking about a really radical change in the sort of work you do, but don't quite know how to go about it.
The Federal, State and Territory governments have come together to create an easy-to-use web site that can help you make that all-important career decision.
In fact, the web site has already had more than 12 million hits since it was launched in July last year!
At www.myfuture.edu.au, you can find information to help you make career decisions, consider lifestyle choices and plan your next steps.
Answer some questions about yourself – such as what skills, interests and aspirations you have, as well as the sort of work conditions you prefer to have – and see what career ideas myfuture.edu.au can suggest.
The site even gives handy hints on where to find out more about the career you're interested in. Some of the places it suggests are the Internet, employers, the state library, bookstores, career expos, the Yellow Pages and the media.
It also provides links to some cool articles, which explore topics such as entrepreneurial personality types (for those of you thinking of starting your own business), finances, getting an apprenticeship, and how to make an employer want to hire you.
But it doesn't stop there. How do you keep your dream job once you've been hired? There's stuff here on how to act on your first day, how to get to work on time and even what to do for lunch!
And if you can't find what you're looking for, check out the search engine. For example, type in 'journalism' and up pops info on different journalism courses, a profile of a journalist and even a link to the US Bureau of Statistics, which collects facts on journalism. Wow!